Our May 17 stories…
---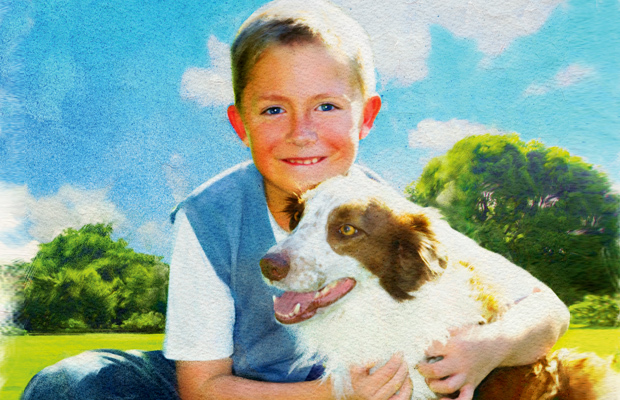 Illustration by Jim Dewar/Thinkstockphotos.
We have a stellar cast of fiction writers for you this week, beginning with Wendy Clarke and her poignant love story about a girl called Julia who can't move forward for looking back…
Just as poignant is Teresa Ashby's tale of Robbie and Olly, a rescue dog his family adopts…But will he be allowed to stay with a new baby on the way? (That's Robbie and Olly in the pic above.) Robbie and Olly have a connection, and that's the theme, too, in Alison Carter's inspirational story about two very different women thrown together by circumstance.
It's a while since we've had a Samantha Tonge story but Sam's back with her familiar light touch in "True Colours". It's about self-esteem, and speed dating…and watch out for the unexpected twist! And how's this for a story description to whet your appetite: a Paris hotel room, a loose door knob, and what happens when it falls off. A.J.Redcliffe writes with a real sense of fun in his "Parisian Adventure".
Life is full of tests, isn't it? Driving, school exams…In Linda Lewis's touching little story, her heroine seems to fail them all…
We're bringing you a newer writer this week, too. We hope you enjoy Cathy Hemsley's Cotswolds romance. It centres on an engagement ring, lost and found years apart…
And finally, the "Friend" wouldn't be the "Friend" without our two serials, currently by two of our favourite serial writers, Katharine Swartz and Joyce Begg. This weeks's chapters are action-packed, emotional and dramatic don't miss them!