Taking The Long Way
---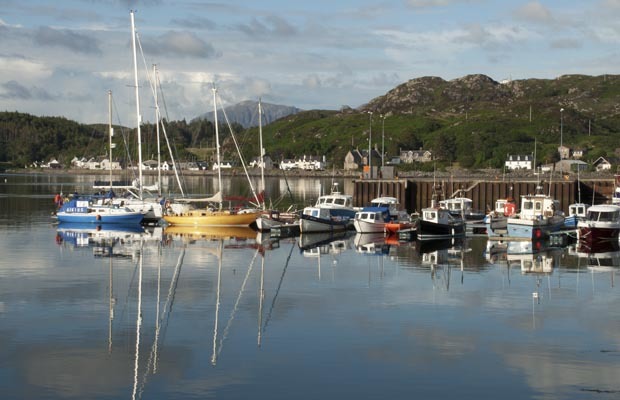 I had a surprisingly good run up to Ullapool today despite the rather grim forecast. In fact, I never felt rain until I was watching the "Isle of Lewis" ferry depart Ullapool pier on its 6pm crossing to Stornoway.
Ullapool is one of these places that never seem to change. It's early May and with a bit of a chill in the air one or two of the houses still have reek rising from their lums. A couple hardy souls herald the summer, though, enjoying a cup of coffee at a pavement table on the waterfront. "Ne'er cast a cloot…."
Of course, I didn't take the direct route to Ullapool – I seldom do. After crossing the Kessock Bridge at Inverness, the car decided to turn right and next thing I knew I was in Rosemarkie on the Black Isle putting my boots on to take a walk to see the waterfalls in the Fairy Glen.
Three hours later I wasn't much closer to Ullapool but looking down over Avoch and the Moray Firth from the site of Ormond Castle. The 12th century castle's long gone but in its day was one of the largest mediaeval castles in the Highlands.
You may recall just over a year ago I came up to meet Alex Mutch at the Ullapool Woodtuming Centre for a lesson in wood turning. This time I'm looking to learn the skills of an equally ancient craft – pottery. And where better to do that than at the studios of Highland Stoneware. This June Highland Stoneware will celebrate their 40th anniversary.
Watching the cars load on to the ferry and as I look out on a quiet Loch Broom, the seagulls squabbling as ever, it was so tempting to just jump aboard. Having to be at the pottery in Lochinver tomorrow morning though, that might just have been one detour too many!