Thai Chicken Cups
---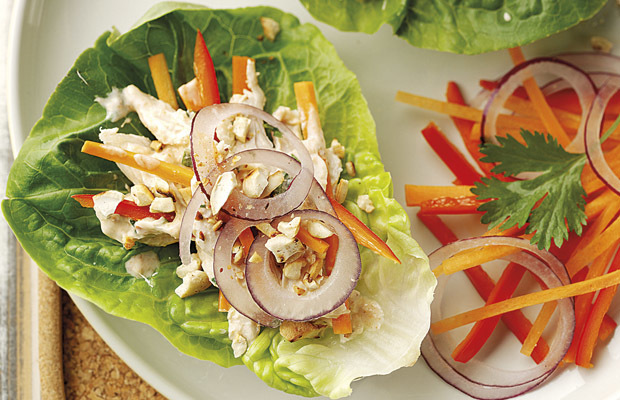 uk.fage.eu
2 x 100 g (3½ oz) skinless chicken breast fillets
300ml (1/2 pint) light chicken stock
1 lime, zest and juice
2 tsp Thai red curry paste
1/2 tsp sugar
Handful coriander leaves, roughly chopped
125g TOTAL 0% Greek yogurt
1 medium carrot, cut into shreds or grated
1 small red pepper, sliced thinly
Round lettuce leaves
1 small red onion, cut into rings
25g cashew nuts, toasted and crushed
uk.fage.eu
Put the chicken in a small saucepan and cover with the stock. Add enough hot water to cover completely. Gently bring to the boil, reduce the heat and simmer for 20 minutes. Remove from the stock and cool.
In a frying-pan, heat the lime zest, juice, curry paste and sugar until bubbling. Reduce the heat and cook until the liquid has evaporated. Cool, then mix with coriander and yoghurt.
Shred the cooled chicken, then mix into the dressing.Store the chicken and salad in the fridge until ready to serve.
To serve, spoon chicken, carrots and peppers into lettuce cups and garnish with onions and cashew nuts.