Impressions From Swanwick
---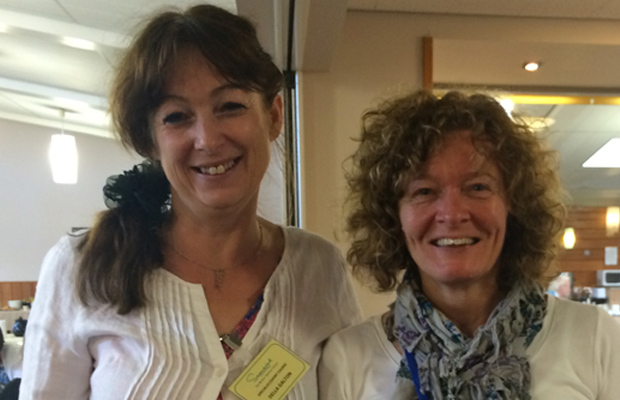 Pic by Shirley Blair
Lilies floating on a pond. Air vibrating with creativity. Bustle. Purpose. Relaxation. Smiles and laughter. Support. Encouragement. Patience. Old friends meeting. Newcomers being embraced.Yellow custard! (You had to be there…!)
The Swanwick Writers' Summer School takes place at the Hayes Conference Centre in Swanwick, near Alfreton in the glorious county of Derbyshire. The setting is idyllic. How can you not relax there? How can you not find thoughts that had been snarled up and blocked by the frenzy of your average day-to-day, gradually unwinding and loosening, free to take flight?
Go for a stroll around the lakes in the gorgeous grounds, take a moment on a quiet bench to gaze over the lily pond, or tuck yourself into a corner of one of the lounges It's an environment designed to foster contemplation and creativity.
And goodness, how much creative energy fills the air. I met writers who write regularly for the "Friend", others who want to but haven't quite found success yet, and still others who are now determined to try.
Poets, playwrights, crime writers, romantics and fantasists, tragedians and comedians: they were all bristling with ideas, and soaking up every hint and tip and morsel of knowledge they could from the programme of speakers and tutors.
I was bombarded with questions about writing for the "Friend", and that was great because it represents the desire to succeed and the level of interest there is in writing for our readers.
It was my first visit, and I was enveloped in warmth and friendship from my first step through its doors. I knew there would be lots of "Friend" writers there who I'd never actually met, though we exchange copious emails, so naturally I was curious to see what everyone looked like! (As they were me, no doubt. Had my website photo been "tweaked"?!)
Unfortunately, despite our best intentions I only managed a brief hello with some of them, while with others there was time for a good long chat. Perhaps another time
Thanks to Diana for her invitation and her hospitality, to John and Zana for being such lovely hosts, to Della (above) for sharing curry night, and to everyone who made the experience such rewarding fun. I'd heard Swanwick was special. They were right.