Lamb and Leek Thai Red Curry
---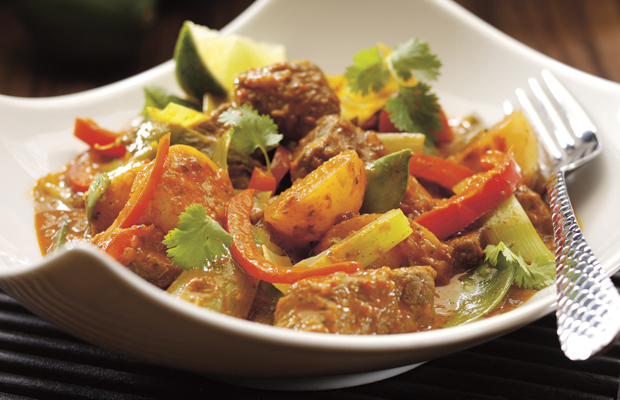 www.britishleeks.co.uk.
Olive oil for frying
500 g (1 lb 2 oz) lamb leg steaks, chopped into chunks
1 x 400g tin of coconut milk
500g (1lb 2 oz) baby new potatoes, halved
150g leek washed and finely sliced, tough outer leaves removed
50g ( 13/4 oz) mangetout, halved
1 red pepper, sliced finely
www.britishleeks.co.uk.
For the curry paste
2 stalks lemongrass, trimmed and chopped
1 fresh red chilli, deseeded and diced finely
2 cloves garlic
2 jarred red peppers in oil
1 heaped tsp tomato puree
Juice of 2 limes
1 tbs cumin seeds
1 tbs coriander seeds
1 tbs paprika
2 tbs soy sauce
1 tbs sesame oil
2cm (3/4 in) piece of fresh ginger
1 tbs caster sugar
To garnish 1 lime, handful fresh coriander
www.britishleeks.co.uk.
You seem to be able to order a Thai curry everywhere these days.
But if you're a fan of this spicy little number, why not try making it at home?
And better still: why not give it a very particular British twist?
Method:
To make the curry paste, put all the ingredients into a food processor and blend to a paste. Once a fragrant curry paste is formed,reserve.
Drizzle some olive oil into the hot frying-pan then add the lamb and fry until golden on the outside. Add the curry paste and fry for 1 more minute.
Pour in the coconut milk and turn the heat down to a simmer.Put the lid on the pan slightly ajar and cook for 20 minutes, then add the potatoes. After a further 30 minutes, add the leeks, mangetout and pepper and cook for another 5 minutes.
Serve garnished with a wedge of lime and some freshly chopped coriander
Et voila! A thai curry like no other!
Still hungry? Check out our other recipes here.
---
Every week, Cookery Ed Marion makes sure "The People's Friend" keeps our readers enthralled in the kitchen. So whether you're a budding chef or a culinary master, you should subscribe to the magazine now . . . otherwise you never know the scrumptious food you might be missing out on!
We even offer gifts and discounts for taking out a subscription with us!