Good Reading In October 25
---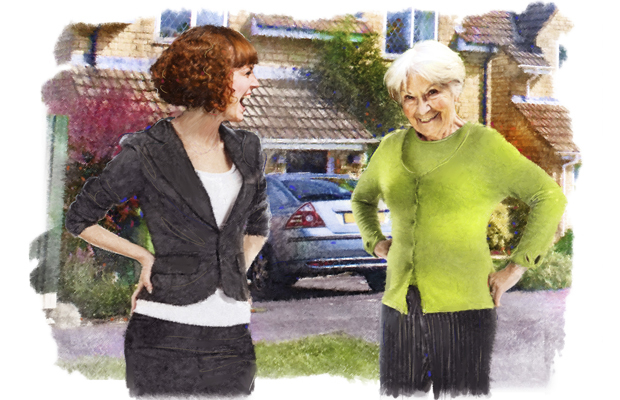 Illustration by Mandy Dixon/Thinkstockphotos.
I don't know if you've ever noticed how creative our contents page is the way our designers blow up an image as a backdrop to the text. This week it's lovely cobwebby autumnal leaves. Very pretty and seasonal.
And talking of contents.Seven short stories coming your way as usual, opening with a humdinger by Alice Elliott set in 19th century Alaska, where life is hard, yet still allows time to fall in love. "The Fabric Of Life" gets the issue off to a cracking start.
Usually it's the grandmother who has wise words for her grandson, but in "As One Door Closes" the roles are reversed and young John's the one to solve Gran's dilemma. This is another fine, sensitive story by Wendy Clarke.
It's followed by Jan Snook's "The Shopping Trip", where Pat is up to well-intentioned match-making involving her kindly young neighbour. I really like the portrayal of Pat in this story: an elderly lady who isn't "old" and frail; she has spirit and energy and a sense of fun, just as modern older women do. And Mandy Dixon's spot-on illustration (above) reflects that.
Do you remember the postbus? Pat Posner whisks us back to those 70s days and the wonders of a Yorkshire postbus in "Mother Knows Best!" the "Mother" of the title having come along for the ride and being a bit of a matchmaker herself!
Families have their own rhythms, don't they? The annual routines dictated by school, work and so on. But what happens when the family begins to grow up and the rhythm starts to change? That's the situation facing Jan and Steve in Rebecca Holmes's very thoughtful "Creatures Of Habit".
The tiniest things can hold so much significance For Marnie it's the little rubber ball that comes with a game of jacks, so she's devastated when it rolls out of reach under the wardrobe. You'll have to read Angela Pickering's "The Grand Tournament" to see why it's so important to her.
A young couple are on the verge of splitting up in "The Winner Takes It All" by Francine Lee. Will they or won't they? What might bring them back from the brink? My lips are sealed!
In this week's chapters of "The Life We Choose", Neilla Martin's intense Scottish serial, Sarah breaks the news of her marriage to her father. And don't miss Tricky Binnie being given a right telling off! Such great characters. In "Times Change For Sister Joan", meanwhile, the good sister comes clean about their latest guest! And finally, "On Wings Of Song" continues, of course though the harmony goes askew as rivalry makes an appearance.
I hope you enjoy all of your reading in this week's issue.