"Wild Swans" Brought To Life
---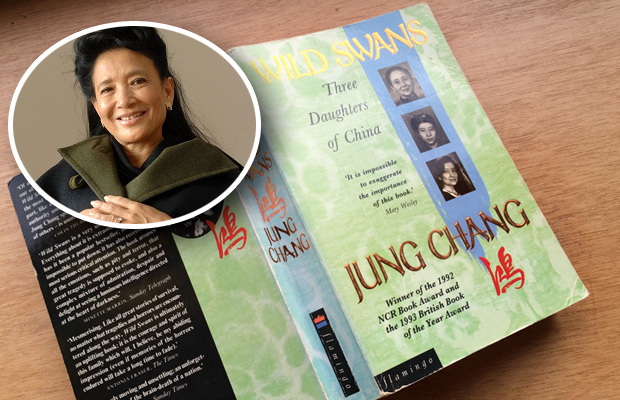 Jung Chang pic: Grant Hill.
I guess we all have our favourite books, those that we'll never throw out, that we find ourselves thinking about long after we've read them. They're the books that we would take to a desert island because we'll never tire of reading them. One of mine is my well-thumbed copy of "Wild Swans" by Jung Chang, so when I heard she was to be speaking in Dundee, I instantly booked my seat.
We're very fortunate here in Dundee because the city has its own university which, rather than being exclusive and insular, is very inclusive and open. This year it celebrates the 90th anniversary of its Saturday Evening Lecture Series, which brings a terrific variety of guest speakers to the city with tickets free to the public.
The university also sponsors the annual Dundee Literary Festival which is gaining in reputation and scope each year. Jung Chang appeared to mark both the opening of this year's festival and that special 90th anniversary of the lecture series.
The talks take place in a main lecture theatre, with two others set aside for overflow. Such was the interest in Jung Chang that not only was the main theatre packed out, but both overflow theatres were in use, too.
But this tiny little black-haired woman in her beautifully embroidered Chinese silk garb held every one of us spellbound.
Jung Chang has written other books since "Wild Swans", and in fact the focus of Saturday's talk was her latest, "Empress Dowager Cixi: The Concubine Who Launched Modern China." But she prefaced her discussion of this by talking about "Wild Swans", and hearing from her own lips the tales that she had set down in that book, about the terrible hardships her family endured under the Mao regime, was just mind-blowing.
Her grandmother grew up in the days when foot-binding was the norm, and she used her hands to demonstrate how this barbaric treatment worked, and showed us the shoes that had fitted her grandmother's poor deformed feet.
And that's where I'm going with this. While her writing is very descriptive and visual, it was hearing her speak of her life, and seeing these things, not just reading about them in her book, that really brought it alive for me . . . which proves the mantra that we all quote so often in terms of writing, to show don't tell.