Jodi Picoult
---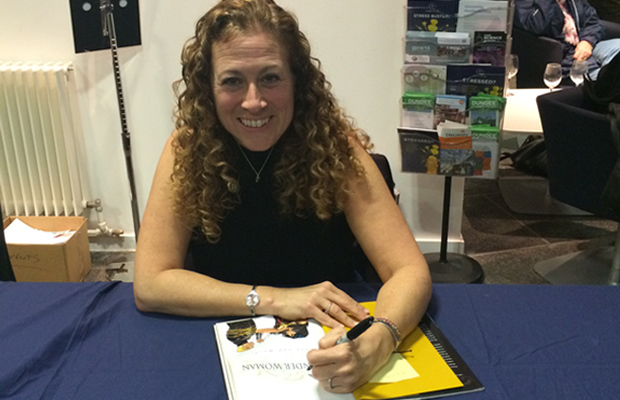 Photo: Shirley Blair
Do you read Jodi Picoult's books? She gave a talk at Dundee University last night, one of only two UK dates on her current book tour publicising her latest novel, "Leaving Time". I'm a big fan so I got myself down there early for a front row seat!
She began the evening by reading two extracts from "Leaving Time" — and you could have heard a pin drop in that packed auditorium.
What I like about her books is that she always underpins the narrative with a real, meaty topic which she researches exhaustively.
"Leaving Time" led her to research elephants — their nature, their characteristics, their plight. Her talk disclosed some of the fun facts she'd learned, like that the male is closed out of the herd at 13; that every elephant's ears are different and unique, like human fingerprints; that they really do never forget, especially in relation to fellow elephants they might have met fifty years ago. She even met a particular pair of sanctuary residents called Shirley and Jenny who bonded when they were introduced in adulthood as a result of meeting briefly when they were calves. (Love the idea of an elephant called Shirley!)
As she talked, it revealed one secret of her writing, and that is that she feels passionately about her topic, something she came back to in the question and answer session afterwards. A young woman in the audience had written a novel years ago — which she bravely confessed wasn't very good! — and her question was, should she write the sequel she wanted to, even though that first one hadn't been great. Jodi's answer: always write the story you want to tell.
Another question was about her early work: did she look at it now and wince a little? Ie, did she think her writing had changed/improved over time?
Her very honest answer was to agree; you can be born a storyteller (as she always was from childhood), but you can learn to be a technically better writer.
It was an inspiring talk, during which her enthusiasm for writing shone out. She can't imagine ever not writing — which is good news for the hordes of fans who bought copies of her book and joined the lengthy queue to have it signed afterwards. I bet they couldn't wait to get home and start reading!