Why We Write…
---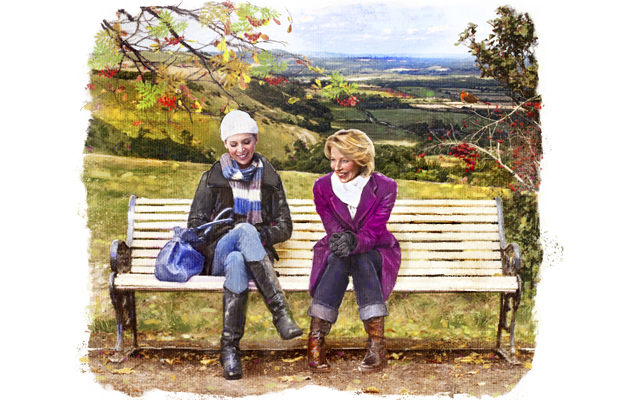 Illustration by Mandy Dixon/Thinkstockphotos.
We received a letter this week, in praise of a story by Jean Cullop which very gently and sensitively explores protagonist Shelley's life moving forward after treatment for cancer, and the protectiveness of her friends and family as she takes those first determined steps.
If I quote the letter here, you'll see just what a story like this can mean to a reader:
"Congratulations on printing the story 'November's Song' in the November 1st copy of 'The People's Friend'. Congratulations, too, to Jean Cullop for writing the story with such sensitivity.
I had surgery for cancer last December. A year or two earlier, two friends of mine both had surgery for breast cancer. Shelley, of course, is fictional, but as cancer is so wide-spread at present, I thought you might like to know what our experiences were in real life.
Cancer is taken very seriously by medical staff, so we found that as soon as the disease was suspected we were swept along, as if on a conveyor belt, so it could be removed as fast as possible. In all our cases we were treated with unfailing kindness and efficiency by all the consultants, doctors and nurses we met.
In my case I had never had a general anaesthetic and had never spent even one night in hospital. I was very frightened as I knew there were risks with a general. What helped me was that I am a Christian and had asked my church family to pray for me, also two Bible verses which I repeated to myself as I waited for the anaesthetic to work.
The first verse is Joshua 1: 9 which says, 'Have I not commanded thee? Be strong and of a good courage; be not afraid, neither be thou dismayed: for the LORD thy God is with thee whithersoever thou goest'. King James Version.
The second is in Isaiah 41: 10 and reads, 'Fear thou not; for I am with thee: be not dismayed; for I am thy God: I will strengthen thee; yea, I will help thee; yea, I will uphold thee with the right hand of my righteousness.' Also from King James Version.
Thinking of those verses kept me calm and probably kept my blood pressure reading lower than it might have been.
Like Shelley, I seem to tire more easily and fall asleep mid-afternoon. Like her I am so thankful to be alive."
Wow. It can be too easy to forget what our readers might be going through and the powerful effect good writing can have — indeed that it should have. Our aim here is always to find stories that move, reassure or reaffirm, entertain, amuse or inspire. Sometimes we manage that better than others. This time, with the help of the incomparable Jean Cullop, we truly hit the spot. Thanks, Jean.