November 29 – your stories
---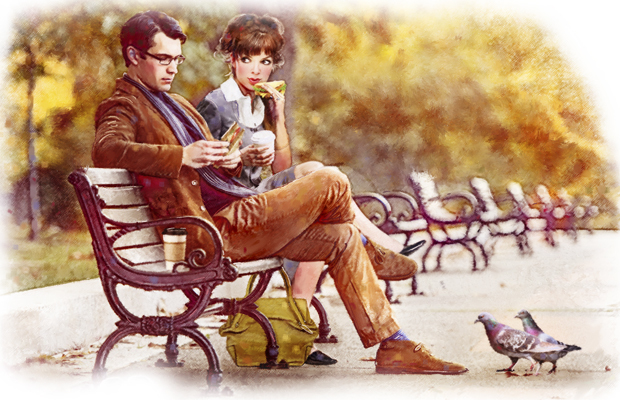 Illustration by Mandy Dixon/Thinkstockphotos.
Don't you think the girl in this illustration has a look of Audrey Hepburn about her? And the mood of Mandy Dixon's illustration as a whole conjures up the romance of those fabulous Fifties/Sixties rom coms a mood that characterises the story perfectly. By Suzanne Ross Jones, it's "The One Who Got Away", our opener this week. Bet you can't wait to read it!
I guess many of us have mixed feelings about the internet, but it's wonderful the way it can bring folk together, people like Grace and Andrew in Jacqui Cooper's tale "The Silver Surfer". On the other hand, you'd never think of a simple doll as being divisive, but that's what's happened in Angela Pickering's "The Wisdom Of Solomon" as two sisters war over their childhood toy.
Do you happen to remember a story from a year ago (Special 70, May 2013) by Leonora Francis, set during the Spanish-American War, which saw governess Imelda and her young charge Adelina being escorted by the dashing Charles Harrington to the safety of Seville? He had to leave Imelda there, but they had fallen in love and promised to find each other again The End. Well, Leonora has written us a thrilling sequel, in "Return To Cadiz"
Many readers think of us as a "Scottish" magazine, and our next story certainly fits the bill. It's by Jessma Carter, titled "Duncan's Bunnet", and wonders about the piece of paper Duncan keeps in his! It's followed by Keith Havers' cute story "The New Arrival", featuring Steve, fretting about being retitled "Grandad"
How's your partner's cooking? Is it usually accompanied by the smell of smoke? That's what faces Susie whenever she comes home in Della Galton's fun look at marriage, "Play To Your Strengths", our seventh short story this week.
Serials? It's week one of a return to Beth Watson's "Cosy Caf" where Christmas is in full swing, and Gwen's determined that the season of goodwill should extend to all. And Neilla Martin's dramatic Scottish saga "The Life We Choose" continues with Sarah coming home to an empty house, with no idea where Daniel has gone.
And as usual, please take a moment to appreciate all the wonderful illustrations that bring our stories to life.
Finally, Joyce Begg's "On Wings Of Song" is rattling along, with the choir fretting about a disastrous rehearsal. Are you enjoying this series? I'd love to hear, about this and all of our fiction content this week!