Chillied Strawberry Jam
---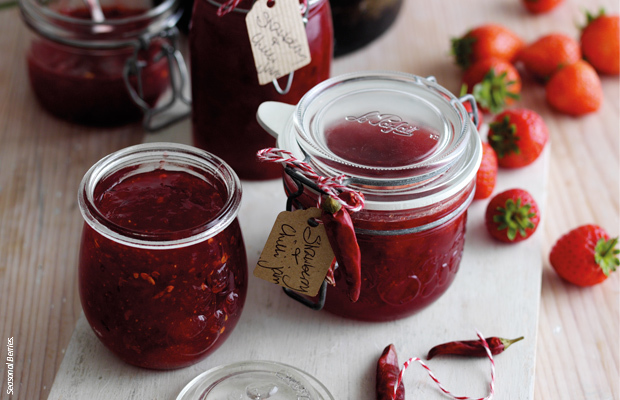 Seasonal Berries
Divide the strawberries in two, adding the larger ones to one pile and the smaller ones to the other. Add the larger strawberries to a preserving pan or large saucepan and roughly mash with a potato masher.
Add the remaining smaller strawberries, dried crushed chillies and sugar and heat gently, stirring from time to time, for about 5 minutes until the sugar has dissolved and the strawberries are beginning to soften.
Stir in the lime rind and juice, then bring the mixture to the boil and boil rapidly for 4 minutes until setting point is reached, skimming off any scum while it is boiling with a draining spoon. To check for setting point, spoon a little of the jam on to a cold saucer, wait for a minute or two then run your finger through the jam, it should wrinkle and leave a space where your finger has been.
Take off the heat and stir in the butter to disperse any remaining scum. Ladle into warm, dry sterilised jars, filling to the very top then stir to disperse the pieces of strawberry evenly. Cover with clean dry screw topped lids or waxed discs and Cellophane then leave to cool. Decorate with labels, string or ribbon and dried chillies if liked.