Blueberry, Orange and Polenta Cake
---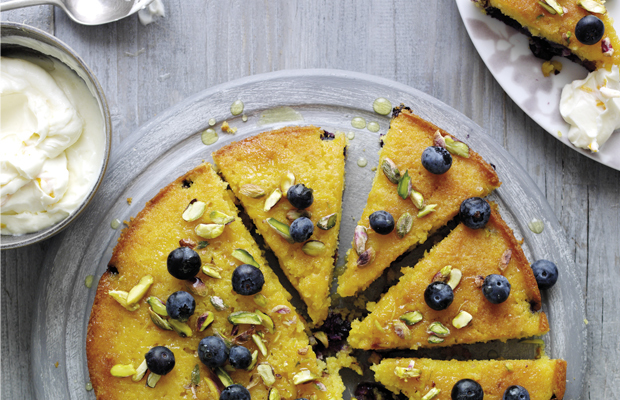 www.seasonalberries.co.uk.
125 g (4½ oz) butter, at room temperature
125 g (4½ oz) caster sugar
1 orange, grated rind and 3 tablespoons of the juice (about ½ an orange)
75 g (3 oz) polenta
75 g (3 oz) self-raising flour
1 tsp baking powder
50 g (2 oz) ground almonds
2 medium eggs, beaten
1 tbs orange flower water, optional
150 g (5 oz) blueberries
www.seasonalberries.co.uk.
To finish
75 g (3 oz) caster sugar
1 orange, grated rind of half and 5 tablespoons of the juice
Few pistachios, sliced
250 g (9 oz) mascarpone soft cheese
2 tbs orange liqueur
Extra blueberries to decorate
www.seasonalberries.co.uk.
Pre-heat the oven to 170 deg. C., 325 deg. F., Gas Mark 3. Grease and base line a 23 cm (9 in) springform tin.
  Add the butter and sugar to a large bowl or food processor then add the orange rind and beat together until light and fluffy.
  Mix the polenta, flour, baking powder and ground almonds in a bowl. Gradually mix alternate spoonfuls of beaten egg and the polenta mix into the creamed butter and sugar and beat well after each addition until smooth once more. Stir in 3 tablespoons orange juice and the orange flower water, if using. Spoon into the lined tin and sprinkle the blueberries over the top.
  Bake for about 35 minutes until the cake is well risen, cracked slightly on top and a skewer comes out cleanly when inserted into the centre of the cake.
  Mix 50 g (2 oz) of the remaining sugar with 3 tablespoons of orange juice together in a bowl.
  Remove the cake from the tin and put on to a cooling rack, peeling away the lining paper and set the rack over a plate. Skewer the top of the cake then drizzle over the orange syrup and sprinkle with the pistachios. Leave to cool.
  When ready to serve, mix the mascarpone with the grated rind of an orange rind and the rest of the sugar then gradually mix in 2 tablespoons of orange juice and the liqueur.
  Transfer the cake to a board, top with extra blueberries then cut into thin slices. Serve with spoonfuls of the mascarpone mix.
Cooks tip – 

The cake freezes well wrapped in baking paper and foil up to one month. Defrost at room temperature for 3 hours then serve.