Twice-baked Sour Cream and Chive Potatoes
---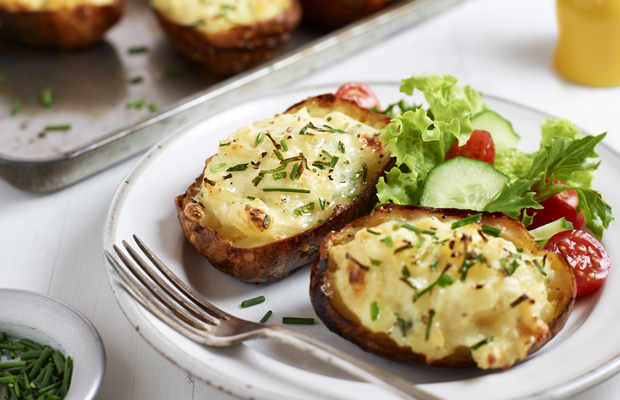 Heat oven to 220 deg. C., 425 deg. F., Gas Mark 7.
Prick the potatoes with a fork, place on a plate and microwave on high (900W) for 5 minutes. Turn the potatoes over and microwave for a further 4 minutes.
Transfer the potatoes to a baking sheet and brush with the oil. Season and place on the top shelf of the oven for 20 to 25 minutes until the skin is crisp and the flesh is soft. Reduce the temperature to 200 deg. C., 400 deg. F., Gas Mark 6 if the potato browns too quickly.
Remove the potatoes from the oven. Halve and scoop out most of the flesh. Roughly mash the flesh in a bowl with the sour cream, milk and 2 tablespoons of the chives. Season and spoon back into the potato skins.
Return to the oven and bake for a further 15 minutes until golden. Scatter with the remaining chives to serve.