Pork Schnitzel with Paprika and Mixed Herb Chips
---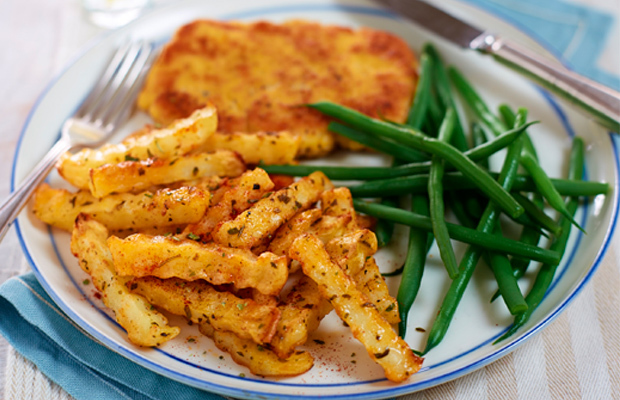 www.chips.lovepotatoes.co.uk.
1 kg (2 lb 4 oz) fluffy potatoes, such as Maris Piper or King Edward, cut thickly
2 tsp olive oil
1 tsp dried mixed herbs
½ tsp paprika
Salt and pepper
4 pork leg escalopes
2 tbs plain flour
1 medium egg
5 tbs breadcrumbs
200 g (7 oz) green beans
www.chips.lovepotatoes.co.uk.
Heat the oven to 220 deg. C., 425 deg. F., Gas Mark 7.
Chop the potatoes into 2 cm ( in) thick chips using a crinkle cut knife, toss in 2 tsp oil and scatter with the mixed herbs and paprika and toss again. Spread out over two large baking trays. Season and transfer to the oven to bake for 25 minutes, turning half way through.
Place a pork escalope between two pieces of cling film and bash with a rolling pin until 1 cm ( in) thick. Remove the cling film and coat in the flour, then egg, then breadcrumbs.
Heat the remaining 1 tsp oil in a large non-stick frying-pan and fry gently over a medium heat for 3 to 4 minutes on each side until golden and cooked through. Repeat with remaining pork escalopes.
Place the beans in a saucepan of boiling water and cook for 3 minutes until just tender before draining and serving with the thick cut mixed herb and paprika chips and pork schnitzel.