Individual Cheese And Onion Pies
---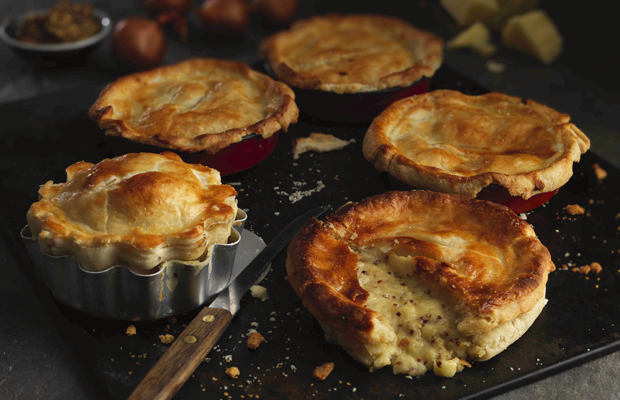 A little flour, for dusting
A little butter, for greasing
1 pack of ready rolled shortcrust pastry
1 onion
180 g (6½ oz) Pilgrims Choice Mature Cheddar
1 tbs wholegrain mustard
A little milk
Recipe courtesy of www.pilgrimschoice.co.uk
Pre-heat oven to 190 deg. C., 375 deg. F., Gas Mark 5. Lightly grease 4 individual pie tins and dust with a little flour.
Roll out the pastry on a floured surface. Using a cutter a little larger than your pie tins, cut out a base for each pie and use to line the pie dishes.
Grate the onion and Pilgrims Choice Mature Cheddar into a bowl. Add the mustard and a little milk and stir well. Fill the pie bases with the mixture.
Cut out pie tops and place on the pie dishes, making sure the edges are sealed. Pierce the top of each pie to allow the steam to escape.
Brush with milk and bake in the pre-heated oven for approximately 25 minutes.