March 14
---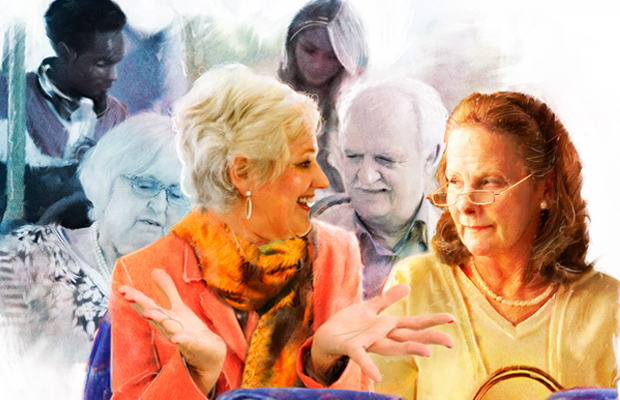 Illustration by Jim Dewar/Thinkstockphotos.
We have a lovely illustration to open this week's issue. By Martin Baines, it shows our hero and heroine in Pamela Kavanagh's unusual period story "Have You Heard The News?" about a girl town crier.
But I like the one I've used above, too, because of the way it captures the mood of the story and its characters, as Diana is trapped on a bus with a fellow traveller who could talk — loudly — for England! That's in Susan Blackburn's "Something To Shout About," cleverly illustrated by Jim Dewar.
I've mentioned before that I love stories about women's friendship, and that's what we have next as Liz and Jan reminisce in "The Important Things In Life" by Annie Harris. Illustrated by Martin Baines.
Opposites attract in "Rambling Rose" by Vivien Hampshire, illustrated by Andy Walker, but for Juliet, in "A Whirlwind Romance" by Suzanne Ross Jones, it was love at first sight. Now she just has to persuade her sceptical family that that's OK for a woman of her age! Illustrated by Ruth Blair.
And another of Ruth's illustrations accompanies Lydia Jones's fun "Fido Fat Club" in which awell, let's say cuddly dog plays cupid.
In "The Two Of Us" by Nina Wagl, Jill's feeling that old empty nest syndrome, but husband Dan has a plan Illustrated by Diane Fawcett.
In our serials this week, Megan and Joshua are struggling to reach understanding in Christine Evans's "Megan's Mountain", part 4, and the search for Emma continues in Pamela Kavanagh's "The Girl From Saddler's Row", part 6. Super illustrations by Gerard Fay and Helen Welsh bring these two stories to life. And of course there's the latest visit to the choir in Joyce Begg's "On Wings Of Song", with someone surprised to find himself singing Bach!