Post workshop post!
---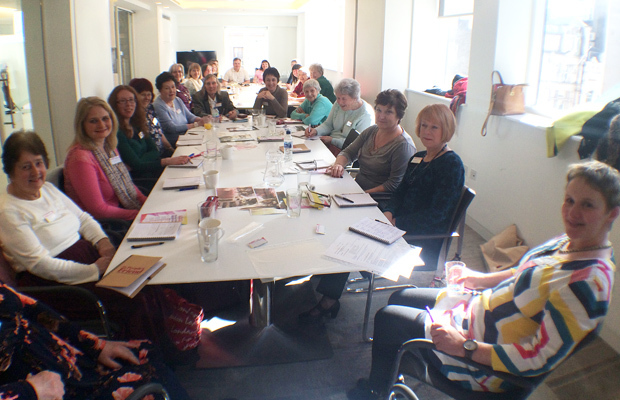 Photo: Shirley Blair
Well, it's been! Workshop No.1 took place on Tuesday, and I know Alison Carter and I had a super time. And we think the ladies and single gent did, too. The feedback was very positive, at least. The pic above shows everyone smiling for the camera, but I can assure you that just minutes before that they had their heads down, busy with one of the many exercises we set.
Because that's what I think a workshop should be. As well as informative talks, my own feeling is that a workshop should well, put you to work, with lots of chances to stretch your writing muscle, show what you can do, practise skills, try new things, and then have the unique opportunity to talk about it afterwards with like-minded people.
It's one of the many advantages a writing group can offer the aspiring writer, the writer who wants to improve or to change direction, or the writer who wants to share the knowledge she's acquired over time.
Some people are happy to read out their work to the group, others prefer to simply listen and learn and both methods are fine. There is no wrong way to go into a workshop though I think it's fair to say that you get out of it what you put in. Reading out takes a wee bit of courage, but no one is there to criticise or make their fellow writers feel small, and the first time is always the worst!
We covered inspiration and how to develop ideas, themes, creating strong characters, structure, and being professional, in what we think was a good, well-balanced programme.
It was fun!
If you fancy taking part in one of our story-writing workshops, we still have spaces available for Tuesday, May 12 being held here in our Dundee offices. If you're interested, send your contact details to us at peoplesfriend@dcthomson.co.uk and we'll be in touch.