April 4
---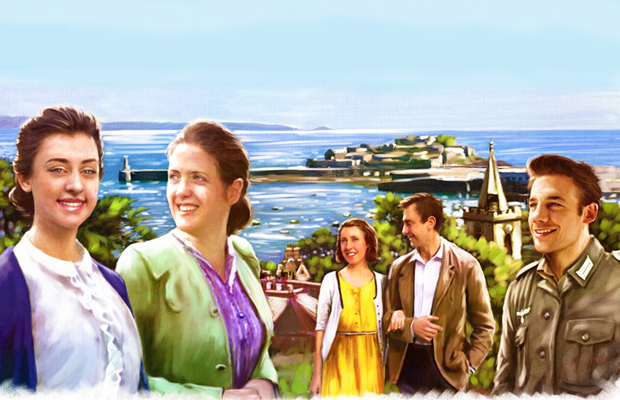 Illustration by David Young
Wendy Clarke has become one of our most popular writers, consistently producing stories that are satisfying and thought-provoking, and we open this week's issue with another of hers. And it came about in an interesting wayUsually we buy the story from the writer first and then have an illustration created to suit it, but Alan from the fiction team had come across a stunning piece of artwork by Len Thurston and sent it to Wendy to see if it inspired her. See the pic and read the result in "Rhythm Of Life".
It's followed by a story by Alison Carter, another of our favourite writers. Alison usually creates fascinating period stories, but in "Baby Blues" she writes about new mum Jenni's insecuritiesIt's beautifully illustrated by Jim Dewar.
I like our next story. By Valerie Bowes, it's about Annie, newly retired and worrying that time might hang heavy. Fat chance! Read what she gets up to in "For Your Own Good!" Illustrated by Ruth Blair.
Now here's a title to intrigue you: "The Sign Says No Fishing". What do you think that's about? It's by Jean Cullop, so you know it's going to be perceptive and sensitive and uplifting because Jean's stories always are. If I tell you it's about two sisters.And you'll have to turn to page 41 to learn any more than that! Illustrated by Marianne Vinge.
"Playing Cupid" doesn't need many guesses, does it? Millie's the cupid in question, with no idea of finding romance for herselfBy Teresa Ashby and illustrated by Andr Leonard.
This issue seems to be full of favourite writers because after Wendy, Alison, Jean and Teresa, we have Pat Posner, not writing about Broome Park prefab village this time but bringing us an upbeat tale of Lucy, shopping for a solo Saturday night supper. "Stormy Weather" is illustrated by Philip Crabb.
Here's a new name for you: Ceri Neil. Welcome, Ceri! Her first story for "The People's Friend" is a sensitive portrayal of finding the way forward after heart-breaking loss. "Sunshine After Rain" is illustrated by Pat Gregory.
No "On Wings Of Song" which finished last week; we'll be bringing you a fun new series in just a few weeks! But we do have a brilliant new serial for you, "Charlotte's War" by Wendy Clarke. It's 1940 with Guernsey under threat of German occupation. What will it mean for the Durand family? That's David Young's first illustration for it above.
And it's week two of Val Bonsall's lively modern story set in "11, Ladysmile Lane", illustrated by Mandy Dixon. Let me know how you're enjoying this one, won't you?