On The Road Again
---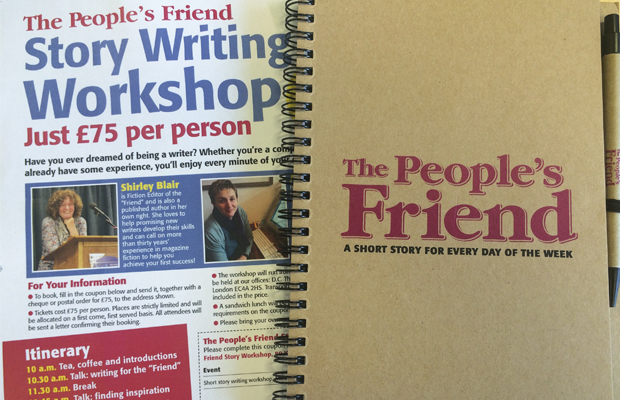 I'm getting ready for the off again, down to London for our next two "People's Friend" Story Writing Workshops on Monday and Tuesday (April 13/14). Our first one in March went well and I'm looking forward to doing it again.
My guest writer Alison Carter and I scoured the feedback we had afterwards, and although it was all very positive, there's always something to be learned, isn't there? So we've tweaked a couple of little bits, allowing more time here and there and ensuring everything runs smoothly.
I wonder who's coming this time? I have a list of names, of course, and some are familiar, writers who've worked with the "Friend" for some time but I've never actually met. Amanda Brittany is one, and Louise McIvor. And Jan Snook though I've virtually met Jan through the Getting To Know You section on our website (http://bit.ly/1vPGgOd) and we've spoken on the phone. But nothing beats face to face, does it?
Of course, many of our guests will be aspiring writers who've yet to have their first success, or perhaps they've still even to pluck up the courage to send in their first story. Hopefully this workshop will give them that courage.
It's a fact that every single one of the writers who feature in our fiction pages started out completely unknown to us, even our regulars like Alison Carter herself. But they took that brave step of sending in their first story to us, and look where they are now. Wendy Clarke, Teresa Ashby, Lydia Jones, Leonora Francis, Della Galton, and so many more terrific writers, all now regulars in our pages, and every one came to us through the unsolicited route.
So although I hope our workshop inspires our guests to write, I also hope it gives them that push to finish their stories, package them up, and send them to us!
(Next workshop: Dundee May 12; enquiries to peoplesfriend@dcthomson.co.uk.