April 18
---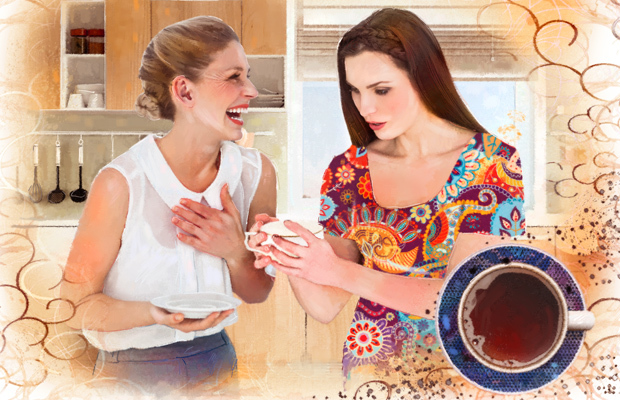 Illustration by Mandy Dixon/Thinkstockphotos.
We open this week with a sweet period story by Patricia Clark, about a girl who works in a biscuit factory but tries to hide the fact from new boyfriend Michael. Why do you think she does that? You'll have to read "Only A Factory Girl" to find out! Illustrated by Sailesh Thakrar.
Susan Sarapuk has written our next story, "The Way We Were", a thoughtful look at family history and where we come from. Illustrated by Jim Dewar.
Have you ever thought, "I can't do that at my age"? That's the theme in "Breaking The Rules" by Rebecca Holmes. Let's just say there's a fairground involved! Set in sunny Spain, it's illustrated by Mark Viney.
Arguments can blow up so easily sometimes, can't they? That's what Kelly and David find in "These Foolish Things" by Wendy Clarke, illustrated by Mandy Murray. But they come up with a novel solution to it!
A story about reading tea leaves comes next, A.J. Redcliffe's "Family Fortunes", but the predictions take Sarah and Pam by surprise. That's its smashing illustration by Mandy Dixon above.
"Once In a Lifetime" by Suzanne Ross Jones features Rita, a widow not in search of romancebut sometimes romance doesn't get the message! Illustrated by Jim Dewar.
Family is so important, isn't it? We worry about them and do our best for them.as Carol does in "Only Connect" when her dad gives her cause for concern. This perceptive story is by Josephine Allen and illustrated by Philip Crabb.
"Charlotte's War" reaches the halfway point with episode three, though I wish Wendy Clarke's enthralling story could go on and on. This week Robert's home and has to be hidden, a risky business for all concerned. Illustrated by David Young.
And we're almost halfway through Val Bonsall's "11, Ladysmile Lane", too. Ruth and Harrison obviously like each other, if only one of them would make the first move! Illustrated by Mandy Dixon.