May 30
---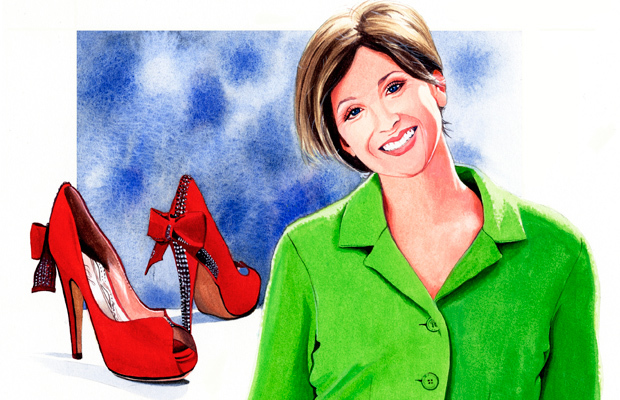 Illustration by Diane Fawcett.
Our opening story by Alison Carter is one of those where the illustration came first. The fiction team's Alan found it in an image library we use, thought it suggested a story, and sent it to Alison, who is particularly good and creative at this. You'll have to read "The Matchmaker" to see the picture, by Lesley Anne Mackenzie, and how Alison interpreted it.
Christine Evans's story "Question Time" is about those endless questions children ask, though how do you answer when one of the questions is, "Why's our neighbour always so grumpy?" Illustrated by Mandy Dixon.
A hot summer's day, a seat in the garden, an air of expectation I wonder if you can guess what Sarah's waiting for in Rose Bray's "The Longest Wait"? Illustrated by Ruth Blair.
A dilemma faces Louise in "Breathing Space". She wants time to think, but boyfriend Gary is pushing her for a decision. But what if it's the wrong one? By Linda Lewis, it's illustrated by Ruth Blair.
"The Lucky Red Shoes" oh, we all have our favourite shoes, don't we? I'm sure this smashing story by Pauline Bradbury will strike a chord. It did with me! Illustrated (above) by Diane Fawcett.
Attics can hold all sorts of surprises, some good, some notIn Natalie Kleinman's story "Secrets in the Attic" Heather learns a shocking truth. Illustrated by Mandy Dixon.
I think I've been asked at every single one of our workshops if men write for us. Yes, they do! Our last story this week, "Open House", is by Malcolm Johnson, whose character David decides he wants a garden pond, and gets more than he bargained for. Illustrated by Philip Crabb.
Malcolm Welshman's "Tales From Prospect House" continue, where it's not always the animals who are the tricky customers!
Our two serials are getting into their stride now. Part 2 of "The Wanderer's Return" by Petrika North sees Eric back on the scene. How will June feel about that? And in "The Crawfords Of Craigeden" by Margaret S. McConnell, Hope discovers why Fred has been less than attentive. Illustrated by Sailesh Thakrar and Helen Welsh respectively.
I hope you enjoy this week's reading selection!