Strawberry and Cream Roulade
---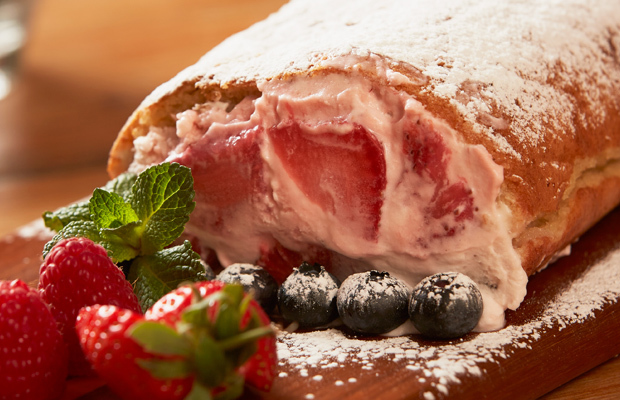 5 medium eggs, separated
150 g (5½ oz) caster sugar, plus 2 tbs
50 g (1¾ oz) ground almonds
400 g (14 oz) strawberries, halved
200 ml (7 fl oz) double cream
Recipe and image courtesy of LEAF (Linking Environment And Farming) and Open Farm Sunday, www.farmsunday.org.
Pre-heat the oven to 180 deg. C., 350 deg. F., Gas Mark 4. Grease and line a 32 x 23 cm (13 x 9 in) Swiss roll tin.
Whisk the egg yolks with the sugar until pale and creamy. Stir in the almonds.
In a clean bowl, whisk the egg whites until stiff peaks and fold into the yolk mixture. Pour into the prepared tin and bake for 20 minutes until golden. Upturn on a sheet of baking parchment, gently roll up and allow to cool.
Meanwhile, place the strawberries, 2 tablespoons of sugar and 1 tablespoon of water in a saucepan and cook gently for 5 minutes. Allow to cool. Whisk the cream until soft peaks and stir in the strawberry mixture. Unroll the roulade, remove the paper and spread with the strawberry cream and roll up. Sprinkle with icing sugar.