The Power Of Words
---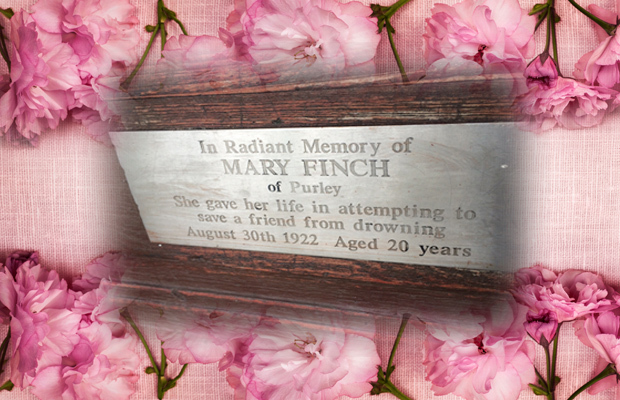 I was down in Purley last weekThe plaque in my picture is attached to a wooden seat on a corner site halfway up one of the hills that rise out of the town. Rest here for a moment under its canopy of sheltering trees, and you'll enjoy not only a welcome breather in your ascent of this long hill, but its position also offers a glorious view over the surrounding countryside. I had no idea how beautiful Greater London could be.
What caught my interest particularly, though, is the wording on the plaque itself not just the drama and poignancy of the event it memorialises, but the way it's expressed: In Radiant Memory. Radiant. Isn't that wonderful? It says so much. It leaves you in no doubt that Mary Finch's death left a terrible aching gap. Yet in that one word, her life is celebrated rather than her death mourned. It captures a sense of a young life lived to the full. I bet she was the kind of girl who just crackled with energy. She was fun. She was heroic. She was selfless.
All that from that single perfectly chosen word: Radiant.
Writing is all about the words. Spending an extra minute or two or ten to find just the right one to convey exactly what you want it to, can make the difference between prose that leaves your reader unmoved and a story that completely engages her heart.