General Wade's High Bridge
---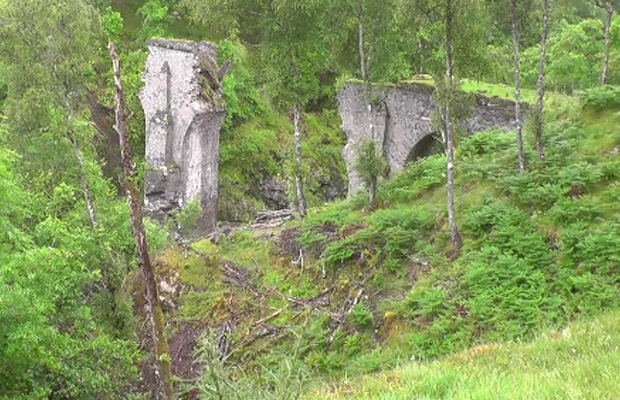 A sign on the fence above General Wade's historic High Bridge over the River Spean warns "Danger – Ruins Unsafe & Steep Drop". It's not joking. With both its tall arches long sincecollapsed, it's a long time since anyone has been able to cross this old bridge safely. It's awhile, too, since I last paid it a visit and, despite this morning's somewhat persistent drizzle, Ithought it time.
It's clear from the overgrown state of the south trackthat not many folk use this route anymore. It's there you'll find a wee stone cairn marking arather significant event. It was here at High Bridge that the first shots were fired in the 1745 Jacobite Rising – that ill-fated rebellion that culminated in the inevitable defeat at Cullodenonly a year later.
The Jacobites were certainly in much better fettle the night that around 85 governmentsoldiers tried to cross this bridge en-route to the garrison at Fort William. Morale wasespecially boosted after they managed to foil the soldiers while outnumbered almost 8 to 1.
How did they do it? They just ran around in circles making as much noise as they could togive the impression that they were a much larger force. And it worked!
I quite enjoy a walk in the wet. It always seems less hurried; colours are richer and moretrue and there's less folk around – sometimes none! Of course, it does have its downsideand today was no exception – the midges are in their element and, if you're the only oneout there, I'm afraid it's you that's on the menu!