Fiction Sneak Peek, May 14, 2016 issue
---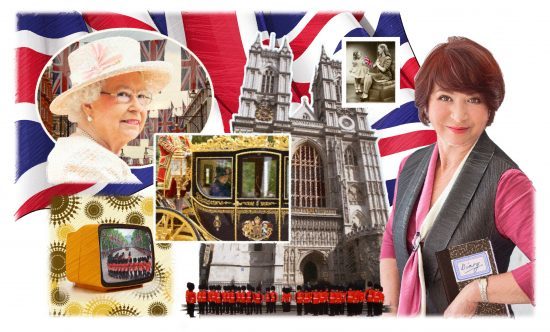 Illustration by Mandy Dixon.
Ahead of a weekend of celebrations for the Queen's 90th birthday, we join in the party with our opening story, "A Royal Connection". Everyone has their own special memories, but it's a precious store that's still being added to in Kate Hardstaff's patriotic tale.
Mandy Dixon's illustration for "The Lady On The Train" evokes the Forties glamour of A.J. Redcliffe's intriguing story, while a story set in Venice isn't going to evoke any other mood but romance. "The City Of Love" by Lydia Jones is just lovely!
We've another celebratory story in "Telling The Truth" by Leonora Francis, when all the to-do around the queen's birthday prompts Iris to look back to 1945 and a very surprising meeting!
Do you remember Pru, who featured in an Alison Carter story a few months ago? Our intrepid spy is back, this time exercising her special old-school skills to resolve a very modern international crisis in "Pru And The Master". Illustrated by Sailesh Thakrar. Oh, and if, like us, you love Pru, don't miss "Prudence Rides Again", a thrilling long read in Special 123, on sale tomorrow!
I love the breezy style of Teresa Ashby's "Under Canvas" as we eavesdrop on Ella's and her mum's different perspectives on Ella's camping trip! And we finish our short story selection with "Photo Opportunity" by Jan Snook, illustrated by Fahimeh Tari. Jan was actually inspired by one of the Story Starter series I feature on my blog. See if you can spot which one!
Serials? It's just the second instalment of Pamela Ormondroyd's "The Farthing In The Beam" and it's still possible for Minnie and Ned to – almost – forget there's a war on….Illustrated by Sailesh Thakrar. And it's the second last instalment of Josephine Allen's lifeboat serial "Time And Tide" illustrated by Kirk Houston. This week, Rhona wonders if Rory is finally going to say the things she's been longing to hear….
Oh, and before you go, don't forget to catch up with the Kildartie folk in Joyce Begg's "On Wings Of Song", will you? Then why not pop back and tell me which story you've liked best this week?