Everyone's Favourite!
---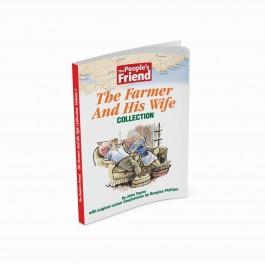 A couple of years ago we undertook some market research here at the "Friend". In other words, we asked our readers what they thought about the magazine as it stood. Should we put a photo on the cover instead of an illustration? Were the serials too short or too long? Did they like the way the features looked?
Well, as you might expect, there were things you liked and things you thought could do with some updating. But when asked to name your favourite things in the magazine, one feature came out almost unanimously on top – the Farmer And His Wife!
This little half-page feature was first introduced in 1981 and was intended to run for six weeks. But the homely tales of farm and family life and the lively illustrations captured everyone's hearts and imaginations, and it is still with us over 30 years later.
To celebrate the extraordinary popularity of John and Anne's tales from the Riggin, we have put together a volume of stories and original illustrations. You can read all about Anne and John's courtship through to later life, and it also includes the the personal stories of the men behind the feature and its artwork – Maurice Taylor and Doug Phillips.
And we even have an exclusive recording of one of the Farmer stories on the website for you to listen to! www.thepeoplesfriend.co.uk/2016/07/13/calling-fans-farmer-wife/
"The Farmer And His Wife Collection" is only available through our shop, so click on the link on our Home page and reserve your copy today!