Fiction Sneak Peek, August 27, 2016 issue
---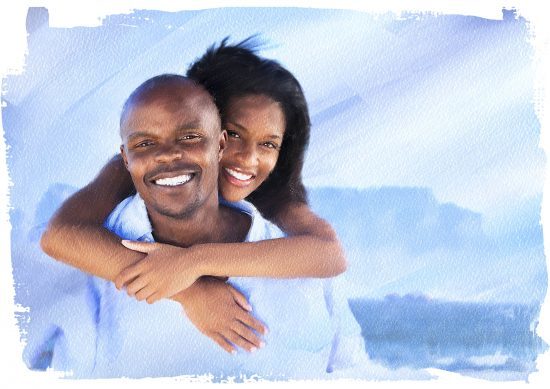 Illustration by Jim Dewar.
I love the  happiness shining out of this gorgeous pic. It's for "The Other Side Of The World" by Lydia Jones. It opens with Hope sitting in Piccadilly Circus….St Kitts! It's about leaving, coming home, and knowing what you want.
But that's not our opening story, which this week is "Living Next Door To Alice" by Susan Blackburn, a tale of neighbours Charlie and Alice and an unlikely cupid – a knight in furry armour, you might say. It has another gorgeous illustration by Jim Dewar.
Feuding business rivals are driving their respective wives nuts in Suzanne Ross Jones's "Fighting Talk", illustrated by Ruth Blair. There's a bit of a twist in this one!
Next in the running order comes Kerry Mayo's "Be My Guest", where a double booking causes chaos at the guest house.
Is there somewhere you've always dreamed of visiting? For Grace it's Istanbul, and she decides there's no time like the present to make that dream come true, in Linda Tyler's "One Night In Istanbul", illustrated by Philip Crabb.
A.J. Redcliffe spins us back to the August Bank Holiday Monday of 1947 in "On Brighton Pier" where Geoffrey meets Ruth. He can't forget her but how will he ever find her again? Illustrated by Mandy Dixon.
You know how it is: a plot of land can be a school which is torn down to make way for offices which in turn are razed to build flats….Lydia has seen it all in "Common Ground". The trouble is, how do you build a sense of community after all that? Luckily she has a plan! This one's by Keith Havers.
I guess we've all seen "The Sound Of Music" so often that we know all the songs and the beautiful scenery would feel quite familiar if we went to Salzburg. That's how it is for the narrator in Glenda Young's story. But husband David still has a few surprises in store. Illustrated by Ruth Blair.
Last week in "The Watch House" by Pamela Kavanagh, we left Jane unconscious on the ground after falling… Who will find her? Illustrated by Martin Baines. And it's the final part of Kate Blackadder's Sixties farming family story "A Time To Reap". One of the highlighted pieces of text reads: "Before she could stop herself she kissed him back." Who and who? You'll have to read it and see! Illustrated by Mandy Dixon.