Writing Workshop Guest Author Kate Blackadder
---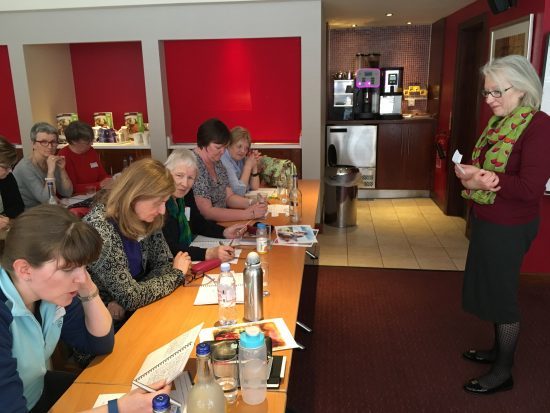 Kate in action at our York writing workshop in April this year. Photo: Shirley Blair
The third of my guest authors for our story writing workshop joins me as guest blogger this week. Kate Blackadder has written numerous short stories and three serials for The People's Friend, so she knows what she's talking about. If you're thinking of coming but aren't sure about reading your work aloud, you'll find what Kate says here particularly interesting…
---
I never wanted to be a teacher. And as for public speaking – never again! Not after I reluctantly said I'd talk to a class at the college I'd attended, when I clutched my sheets of paper in shaking hands, read without looking up, gasped for air at the end of every line.
In fact, speaking up in public, whatever the occasion, was something I avoided as much as possible.
But then … I took up writing. In the creative writing class I had to read out what I'd written in order to get feedback. And when reading at meetings of the Edinburgh Writers' Club I wanted to do my stories and poems justice, so I had to stop gabbling and hyperventilating.
Gradually, I got less nervous.
It was a challenge on a different scale though when I was asked to adjudicate a short-story competition at the Scottish Association of Writers' annual conference, which meant presenting the results to around 150 people. My first instinct was to refuse. It was just too scary. But to be asked was a compliment (and I'd be paid). So I got some professional help from a voice coach including: instead of reading from screeds of paper, make headings on cards and practise, practise, practise beforehand; look down at the notes to read them to yourself, look up to speak; stand with your feet apart, well balanced; look around your audience. And breathe!
Just before I'm going to speak in public I still speculate if the ladies' loo might have a window offering an escape route, but I know now that the heart-hammering anticipation is worse than the reality.
Being guest author at The People's Friend short-story writing workshop has taken me in another direction, as a (kind of) teacher. I would never have thought that it would be something I could do, and enjoy doing.
Promotion is part-and-parcel of being a writer, whether you are self- or traditionally published. So if you are asked to speak about your work do take a deep breath and say yes. There can only be one first time, and you never know where it might lead.
Kate Blackadder
---
Thanks, Kate. I'm sorry for what we put you through – and thanks for being brave!
Kate writes a great blog of her own, while her two published People's Friend serials, "The Family at Farrshore" and "The Ferryboat", are available from libraries in large-print. Or read her short story collection, Three's a Crowd.
If you'd like to come to a writing workshop but feel a bit shy, why not join Kate and I for our Dundee date on September 15? We have fewer people signed up for this one so it'll be a smaller group. Dundee's a super place and we'd love to see you!  Booking form right here! Spaces still available, too, for Bristol September 7 with Helen Yendall, and Manchester September 26 with Lydia Jones.