Fiction Sneak Peek, September 3, 2016 issue
---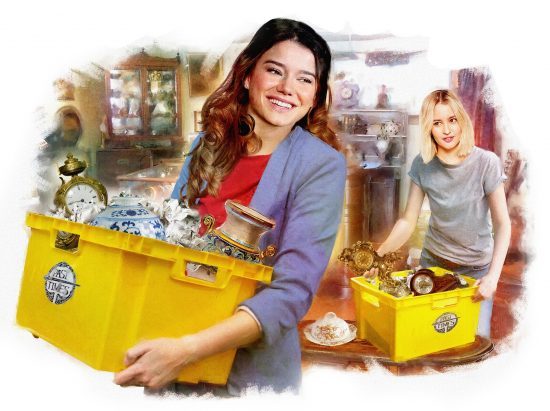 Illustration by Martin Baines.
The mystery's mounting in our serial "The Watch House" by Pamela Kavanagh. Part 7 this week – only one more to go! This week's illustration shows Lauren and Kelly sorting through auction lots – and finding that some pieces are missing. But lost …. or stolen?
And a new serial begins this week, too, a fascinating period tale of botanical skulduggery! "The Flower Of Hope" is by Penny Alexander and atmospherically illustrated by Ruth Blair.
Kerry Mayo's series "Be My Guest" continues to shed light on life in a guest house. Janey and Rob hit a few language barriers this week.
But back to the short stories….We open this issue with a Wendy Clarke classic, "A Walk On The Fells" – a dual-period tale that had the original title of "The Coffin Stone". That's intriguing, isn't it? Illustrated by Mandy Dixon.
A lovely poignant story is "The Butterfly Garden" by Jean Cullop, about three generations of a family trying to adjust to the loss of adored wife, mother and grandma Sophia. Illustration Mandy Dixon.
A story about a sofa next! A sofa that goes from the waiting room of a hospital to….well, read the story to see where it fetches up next. This clever story, "Anything But Grey" is by Teresa Ashby and illustrated by Graham Kennedy.
You know how it is, everything swimming along quite cosily, then you receive some news that's a bolt from the blue. That's the theme of Joanna Bucktrout's "The Lull Before The Storm," illustrated by Kirk Houston.
We jet off to Amalfi for "Welcome To Paradise" by Wendy Clarke. I don't want to say too much because this has a very, very gentle twist in it but it's a lovely story!
Clearing out and cashing in are the theme of Jan Snook's "Cash In The Attic", illustrated by Kirk Houston. Food for thought, this one.
And our seventh story is "The Sound Of Bells" by George Hughes, set in Wales, where the bells of the title herald more than just a call to church.