Fiction Sneak Peek, September 17, 2016 Issue
---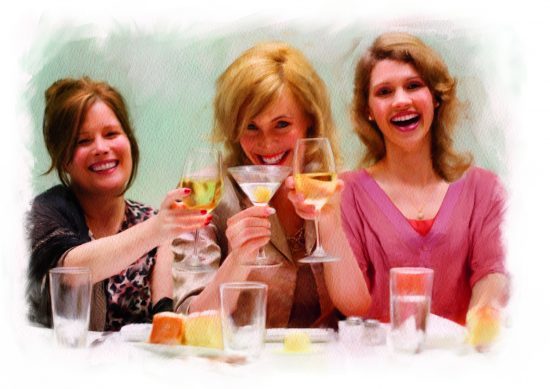 Illustration by Jim Dewar.
This lovely trio are celebrating birthdays, but no polite exchange of scarves and smellies for them. In Pauline Bradbury's story "The Charity Challenge", they're much more altruistic than that, though perhaps the latest challenge is a step too far?
We've another great selection of short stories this week, opening with "Just Like You And Me", Patricia Galvan's first story for "The People's Friend". Welcome, Patricia! It's about a handsome Italian, in wartime, which means that although he's charming, he's the enemy… Illustration by Kirk Houston.
Della Galton's one of our favourite writers – yours too, I hope. This week she's written a nice metaphorical story, "As The Seasons Change", about young birds flying south… Illustration by Gerard Fay.
When Lydia Jones writes a romance you know it's going to be sumptuous and properly "Aaahhhh". She's done it again with "A Year In Nice". So-o-o nice. Illustrated by Kirk Houston.
"Be My Guest" next, our life-in-a-guesthouse series by Kerry Mayo. Family habits raise eyebrows this week!
Very appropriately, given that Wednesday 14th September is Cycle To Work Day, we have "The Bicycle Belles" next, by Glenda Young. How's that for planning? It's about getting back in the saddle after umpty-tum years…
I had an email from Louise McIvor, writer of our next story, "The Stationmaster's Daughter", saying how much she loves Martin Baines illustration for it. Good to know! It's a period story, featuring feisty Leonora who knows the timetable off by heart, yet has no time for romance…
The write-up for Jennifer Copeland's "One More Time" reads, They say you can never go back, but I believe in second chances… Back to where, and a second chance at what? You'll have to read the story.
This week's serial instalments are part 3 of Penny Alexander's "The Flower Of Hope" with Caroline and Luke on the quest to find Matthew. Illustrated by Ruth Blair. And I'm delighted to announce our new serial, one of the runners-up in our competition last year. It's a family drama, "A Traveller's Life" by Anne Stenhouse, illustrated by Kirk Houston. I know you'll love it as much as we do!