Fiction Sneak Peek, October 1, 2016 Issue
---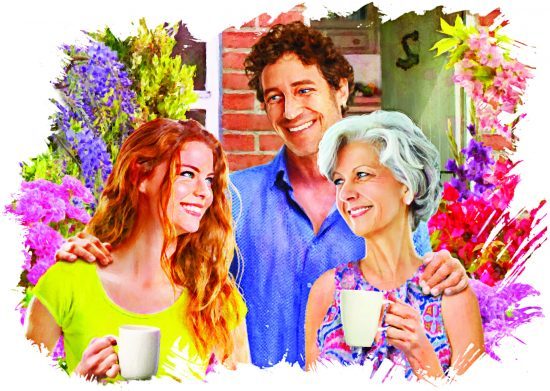 Illustration by Kirk Houston.
This colourful scene captures the family in the third and final instalment of "A Traveller's Tale" by Anne Stenhouse. I've loved this modern serial, a very worthy runner-up in our serial writing competition. It's lively and a little bit different for us. Tell me what you've thought, won't you? And the great news is, Anne's continuing to write for us. Short stories at the moment, but we'll do our best to coax her into another serial, too.
The first of our seven short stories is "Nothing To Lose" by Jan Snook, with the write up: Times were changing for Jo. Why shouldn't she go for dinner with a handsome stranger? Makes you wonder what's going on there, doesn't it? Why should she not? Illustrated by Jim Dewar.
Such a delicate little story next, about the powerful symbolism of a simple white feather. By Susan Blackburn, "Wings Of An Angel" is illustrated by Mandy Dixon.
Those of us who tend to hoard will feel for Kirsty in "A Place For Rose" as she follows Mum's instructions to have a good clear-out. Not everything, surely? It's by new "Friend" writer Morag Moffat, and illustrated by Jim Dewar.
In Kerry Mayo's "Be My Guest" Rob and Janey find themselves involved in a game of space invaders!
Stefania Hartley is one of our newer writers. This week she's written "A Craftsman's Art" which is an unusual blend of 18th century history and the computer age, brought together in the cause of great art.  It comes with a beautiful illustration by Mandy Dixon.
Remember Val Bonsall's two detectives Glyn and Chrissie? They're on another case in "It's In The Post", that old cliche about missing cheques… Illustrated by Philip Crabb.
You'll feel as if you're there in "A Dream Of Connemara" by C.K. Andrew, so rich is the soft Irish atmosphere in this poignant tale of young love. Illustrated by Jim Dewar.
Did you have a dream when you were younger, of how your life would turn out? And what would you do if you had the chance to go back? They're questions Claire is asking in "Among The Dunes". By Val Bonsall, it's illustrated by Mandy Dixon.
It's time for the last but one instalment of Penny Alexander's sumptuous period story "The Flower Of Hope", with Caroline at the heart of a battle of wills. Illustrated by Ruth Blair.
And now I'm delighted to introduce our newest fiction feature. It's "Riverside", a soap written exclusively for us by Glenda Young. Week by week we'll pop in to follow the lives of George and Mary, their daughter Susan, and, oh, lots of other characters who live there. You'll meet them as we go along but we're already completely caught up in their lives, and I know you will be, too! This week, past history's threatening trouble for poor Mary and Susan…
And look out for an interview with Glenda in our November 26 issue when she'll tell you more about herself. (Don't worry – I'll remind you nearer the time!) Glenda has a great soap pedigree, being a renowned "Coronation Street" biographer and blogger. And now she's writing a soap especially for you!