Fiction Sneak Peek, October 8 Issue
---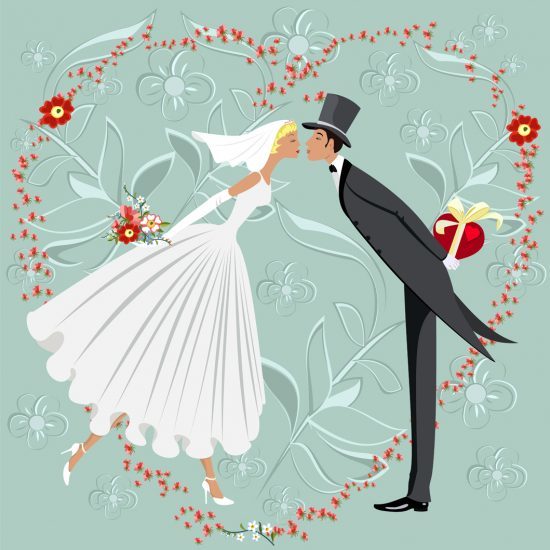 Illustration: iStock.
This cute illustration is for Wendy Clarke's short story "Wedding Vows" in which Bethanie and Ewan have decided to write their own. But how does he find the right words? It's the second title in our story selection this week.
The first is Rebecca Holmes's "On The Peaks" transports us to the beautiful Peak District where Emma and a bunch of pals have gone for a quite cottage break. Trouble is, with Adam around nothing stays quiet for long… Illustrated by Diane Fawcett.
Stevie Wonder, Marc Bolan, David Cassidy – guess when our next story is set. Yup, the sensational 70s, with Heather desperate to have her own room to hang up her three-part Donny Osmond poster from "Jackie". Remember them? Keith Havers' story "Room For Improvement" is illustrated in true 70s splendour by Mandy Dixon.
In "Be My Guest", Kerry Mayo's series, Janey's cracking up over the breakfast routine.
It's all too easy to fall into a comfortable rut, but in Susan Sarapuk's "A Creature Of Habit", Mary's trying to shake Sarah out of the same old, same old. After all, some ruts can become a little too comfortable and a little too deep. Illustrated by Ruth Blair.
We have a gorgeous period story next, by Kitty-Lydia Dye who's enjoying growing success with us. Her latest is "In Fields Of Corn", about the tradition of making corn dollies, how important it is – and therefore a bit of a crisis when Mirabel can't get the hang of it. Fortunately handsome labourer Jacob's there to lend a hand.
Ollie is very important to Erica, and so is Matt. She wants them both in her life, but what if that's not possible? Teresa Ashby's story "My Best Friend" is poignant and touching and thoughtful. Illustrated by Helen Welsh.
I love the different tone of Susan Blackburn's "An Old-fashioned Girl". When you start reading it you'll think Annie's a spoilt madam, but stick with her and I can just about guarantee your perception of her will change, the way it often does when we get to know someone better. Illustrated by David Young.
So that's this week's super seven story selection! Serials? It's the final part of Penny Alexander's period drama "The Flower Of Hope", illustrated by Ruth Blair. She's portrayed this one beautifully, don't you think?
And as one story finishes another begins, with part 1 of a new crime drama by Val Bonsall. Do you remember Ladysmile Lane and Harrison, the private investigator? This time he has a starring role, with a new case to pursue, and a new sidekick in ex-colleague Pip. But Ruth's still on the scene. She was his almost love interest, if you recall…. "The Ladysmile Detective Agency" is illustrated by Mandy Dixon.
Oh, and I mustn't forget week 2 of "Riverside", our new soap. Mike Brennan turns up a Mary's door, the last person she expected – and the last George wants to see….
I hope you enjoy every bit of this week's story selection. Let me know, won't you?