Fiction Sneak Peek, October 15, 2016 Issue
---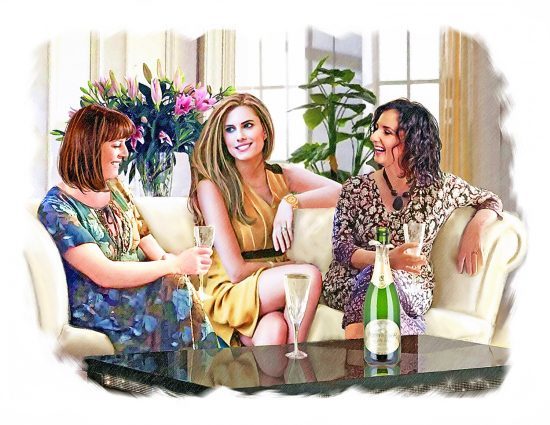 Illustration: Ruth Blair
Three friends having a giggle over a bottle of fizz: that's Ruth Blair's illustration for "For Love Or Money", by Kate Blackadder. But dig into the story further and we learn that one of the three seems to be going up in the world. Will it mean the end of their friendship?
Can you believe our opening story's title: "A Day In The Life Of A Chicken"? Makes you wonder what that story's about, doesn't it? It's by Annie Harris and illustrated by Jim Dewar.
Talking of titles, Margaret Skipworth's original for our next story was "Shades of Grey", which was perfect for it, but we worried that readers might get the wrong impression of this poignant, very sensitive story about loss, so we've changed it to "Colour Me Happy". Illustration by Philip Crabb.
In Kerry Mayo's "Be My Guest" Rob's juggling a conflict of interest: tend the neglected garden or help Janey with 15 breakfasts?
We have a very handsome young man in our next story illustration, by Philip Crabb. He's Stuart, son of Jean and Patrick, and striking out on his own – so long as he's within phone-call-reach of his mum! "Sunday Dinner" is by our soap queen, Glenda Young.
An unusual story next, by a new Australian contributor, David Kippen, inspired by a painting of an old time "swaggie". "The Swagman" is set in Northern Victoria just after the Depression when so many lives were torn apart. Can they ever be reconciled? Illustration by David Young.
We all know that one person's junk can be another's treasure….H. Johnson-Mack has turned that idea into a satisfying story, "A Work Of Art".
Mum and Dad have a dilemma in "Parental Guidance" when it looks like they might have to call off their daughter's wedding! By Karen Clarke, it's illustrated by Jim Dewar.
It's hard to believe that "The Gilded Gaol" is Alison Carter's first serial for us. She's been such a regular short story contributor. But yes, her debut serial starts this week, a fascinating insight into the world of Mary Stuart, the Scottish Queen, and Bess of Hardwick, seen through the eyes of two ordinary women of their respective households. And it's beautifully illustrated by Sailesh Thakrar.
It's week 2 of Val Bonsall's "The Ladysmile Detective Agency", following investigator Harrison's latest case. And friendship's a theme, too – or is it more where Ruth's concerned? Illustrated by Mandy Dixon.
And how are you enjoying Riverside, Glenda Young's soap? This week, George has come home to find Mike Brennan, of all people, already there – I guess we're talking now of the opposite of friendship! But is he prepared to listen to what the man has to say?