Spies, Saints and Stovies – At The Book Festival
---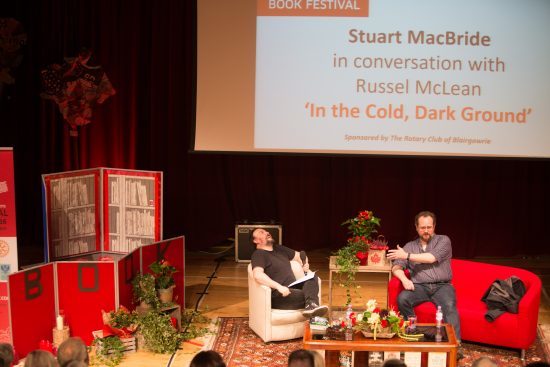 Stuart MacBride and Russel McLean had the audience - and each other - in stitches!/ Photograph by Keathbank Photography.
Like most of the "Friend" team, I love reading. Non-fiction, crime, fantasy, science fiction and more – I can have four or five books on the go at once. So when I spotted a poster advertising some great authors at Bookmark , a Perthshire book festival now in its fourth year, I had to go.
James Naughtie
Radio Four is my background sound of choice, so the session with one of the station's most respected presenters, James Naughtie, was a must. "Paris Spring" is his second novel. It features Will Flemyng, a spy based at the British embassy in Paris, and is set during the 1968 student uprising.
The book's atmosphere and sense of place are so vivid, it was no surprise that a lot of research had gone into the writing – especially the Paris restaurants! But the characters are just as vivid. And it's that interest in character that drives both Naughtie's journalism and his fiction. He's fascinated by the effect of people and their interactions on the great events of politics and history. That showed, too, in the glimpses he gave us into "other job" – covering the US presidential campaign for the BBC.
A Little History Of Religion
The first session of the next day also saw James Naughtie in fine form interviewing former Bishop of Edinburgh, Richard Holloway, about his new book, "A Little History Of Religion". What followed was a whistle-stop tour from the search by earliest humans for explanations about the world to the abundance of adherents of different creeds – and none – that we have today.
It was a fascinating session with a charismatic speaker and interviewer, and an interested and engaged audience.
Crime Time
Next up was acclaimed crime writer Stuart MacBride, interviewed by fellow crime writer Russel McLean. Stuart's Aberdeen-based detective, Logan McRae is now on his tenth adventure, "In The Cold Dark Ground". Gritty, realistic, violent and funny, the series has a huge and loyal following. The one-liners amidst the grim scenes – and even grimmer weather – are plentiful and hilarious.
He's a busy chap, taking only four days off from writing every year: Christmas, his own and his wife's birthdays, and their anniversary. And yet the man still found time to become the 2014 World Stovies Champion! That's a real thing, and he kindly agreed that we could link to his winning recipe here. Can't wait to try it!
More Stories
There were more brilliant writers at this fabulous festival over the weekend. Already I'm looking forward to next year's event. Hearing passages from the books read by their authors is always a treat. I find the voice stays with me, which adds to the enjoyment when I read their books again.
If you have the chance to go to a book festival this autumn, you're sure to have a great time. You can find your nearest event here.
You don't have to wait for a festival, though, to hear stories from your favourite authors. Just tune in now to "The People's Friend Presents" – our free audio podcast of specially recorded stories from the magazine – to hear more great stories at a time of your choice.
Happy listening!