I was fortunate enough to attend a ball last weekend. It was a very glitzy affair; black tie and evening dress, etc. It was a little different in that it was the first charity ball for Deaf Links in Tayside, so half the people who attended were deaf.
There were messages of support from Her Majesty the Queen and Prince William and Kate. Also the cast of "Emmerdale", "Eastenders" and "Coronation Street"!
The speeches were made with interpreters signing at various sites in the ballroom. A signing choir urged everyone on to the floor to dance and sign to the song "Celebration".
What a super evening!
British Sign Language
My sister is an interpreter for British Sign Language, having just graduated from Heriot-Watt university in its inaugural degree course. So she was "chattering" away to the others at our table.
My niece, too, has been learning some signing from her mother.  She works part time at the Food Bank and feels this will help her communicate with the clients.
But me? I had little idea of what was being said. It was a strange and frustrating experience, no doubt just as frustrating as it is for deaf people in a hearing world!
I hope the call for BSL to be taught in schools is approved.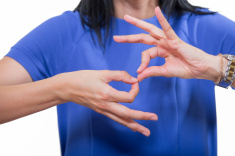 One of the fascinating things for someone like me, who works each day with language, is how quickly sign language evolves. Deaf youngsters have their own slang, there are geographical differences, and new signs appear every day.
There is at least one very cheeky sign for Donald Trump!  And as with most of the signs, it is instantly identifiable. Like the one-armed gesture of playing the bagpipes which represents Scotland!
We know that learning a new language is good for the brain, so this coming New Year my resolution may well be to learn BSL!