Fiction Sneak Peek: Jan 21, 2017 issue
---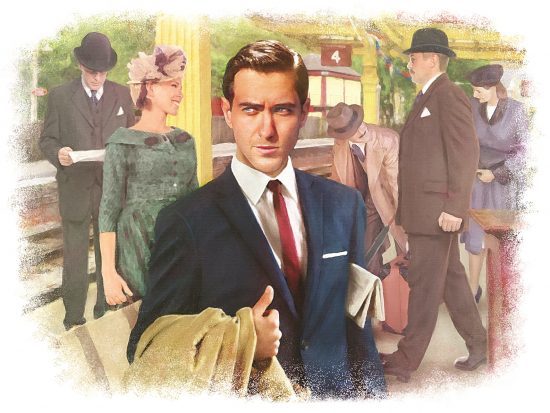 Illustration by Kirk Houston.
I love the style of this illustration. It's very Mad Men, though the hero has a look of James Stewart and the story is more like Alfred Hitchcock. A train, and a robbery to solve….Set in the 1950s, "Mistaken Identity" is by June Bowden and is the third of our stories this week.
But Teresa Ashby opens the issue for us, with "Always There", starring writer Jake, plumber Katy, and her daughter Suzi who's only seven but in many ways  a lot wiser than her mum. It's illustrated by Michael Thomas.
Sally Trueman Dicken is one of our new writers but she'll soon become a favourite with stories like "The Wallflower", a careful character study about Julia, her mum, and missed opportunities. Illustration: Martin Baines.
Another one of our new writers next, Tracy Baines, with her story "Hidden Beauty", a sensitive story about how everything needs its own place and time to blossom.
It's the next-to-final part of "Be My Guest" by Kerry Mayo, with the Red House playing host to a party of Belgian pilgrims…
In "Fruitcake And Roses" by Tracey Glasspool, Edith wants to welcome Henry home with a scene of domestic bliss: clean dry washing, freshly baked cake. Then it all starts to go wrong. Illustration: Ruth Blair.
His neighbour's terrible piano playing catches Bert's ear in "The Key To Success", Cilla Moss's fun story. He's given up playing himself, but he needs to do something about this noise!
The generation gap proves to be no such thing in "Be Happy" by Susan Blackburn and illustrated by Philip Crabb.
Serials
"After All This Time" is our new serial by Mark Neilson, with friendship growing between Kirsty and Helen, and Kirsty enlisting help in her quest. Illustration: David Young.
And we've reached the penultimate episode of "Life At Langrannoch" by Neilla Martin and Joyce Begg. Caroline's in Paris and loving it, and yet missing Langrannoch and everyone there. She has to remind herself it's not her home… Illustrated by Ruth Blair.
And finally, our visit to soap land with Glenda Young's "Riverside", where they're dealing with the aftermath of Ruby's unexpected wedding guest. Honestly, we could swing for that Paul…
I hope you enjoy every bit of this week's reading.