Fiction Sneak Peek: Feb 4, 2017 issue
---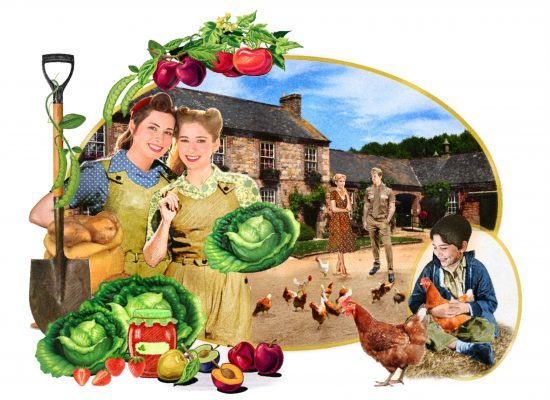 Illustration by Mandy Dixon.
A change is as good as a rest, they say, so for a change this week I'm starting the sneak peek with the serials instead of the short stories.
It also gives me the chance to show you this lovely illustration for the new eight-part story that begins in this issue. "A Home From Home" is by Rosie Hendry and it's her first serial for us. It begins in July 1944, on a Norfolk farm, where land girls Phylly and Gracie are doing their bit.
The second of our current serials is "After All This Time" by Mark Neilson, which reaches its final instalment, with Kirsty and Conner finally face to face with Helen's lost love. Illustration by David Young.
Short Stories
The opening short story in this issue is "Light In the Darkness", a classic Pamela Kavanagh romance set at Candlemas in the 1830s. Illustration: Mandy Dixon.
Next is "Ginny's Secret" by Pauline Bradbury, with Ginny trying to find just the right moment to tell her husband news that she fears he won't want to hear. Illustration: Jim Dewar.
Another new writer brings you your next story. "Weathering The Storms" is by Ann Hilton, about never giving up. Illustrated by Ruth Blair.
Ever had one of those days when nothing goes right? That's poor Karen in Em Barnard's "Perfect Timing", illustrated by Kirk Houston.
Is Marie's reason for coming home really to see if Josh will hold good on his promise? After all, they were only eight then. That's "A Little Cornish Magic" by Gwen Rollinson, illustrated by Martin Baines.
A story with a bit of edge next, as Lauren fears her niece Amy is following too closely in her sister's footsteps… By Teresa Ashby, "The Wrong Path" is illustrated by Ruth Blair.
I loved this clever story as soon as I read it. It's "Educating Dad", about, among other things, Britain being in the Common Market. It's set in 1975, but how topical! It's by Keith Havers and illustrated by Martin Baines.
Series
I'm delighted that Joyce Begg has written us another series about the Kildartie Singers. "On Wings Of Song" begins this week.
And Glenda Young's super soap "Riverside" finishes off our story selection. This week: Anna has trouble with her sleeping partner, and the darts team enjoys good news – closely followed by bad news!