Fiction Sneak Peek: March 25, 2017 issue
---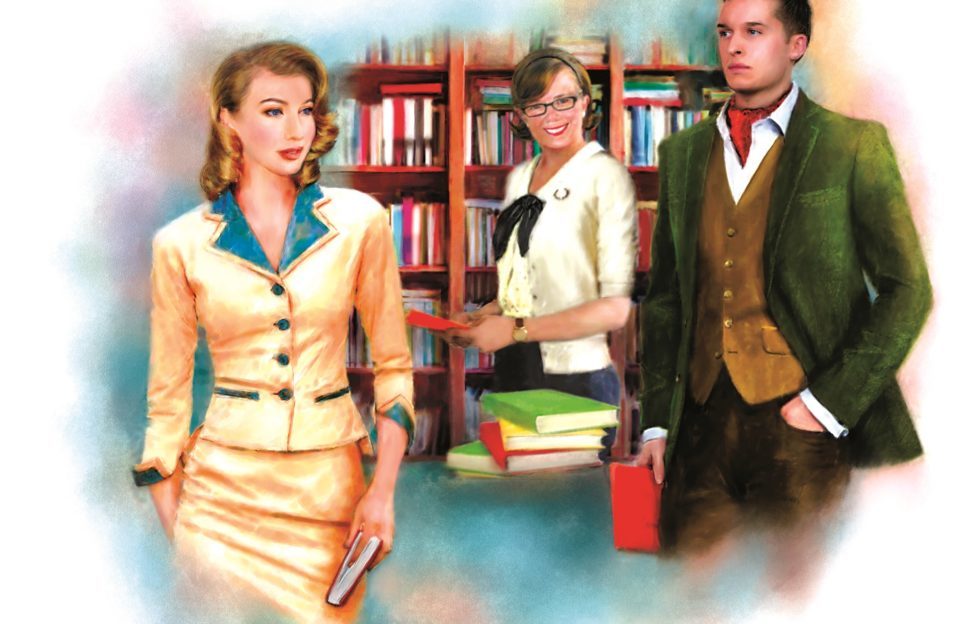 Illustration by Helen Welsh.
"Dance To Your Own Tune" is our opening story by Jessma Carter, with an illustration that perfectly captures its 1953 setting. Will our two library lovebirds find a happy ending?
This is our Mother's Day issue and our next story is about a son who thinks he doesn't have time to visit his mum on her special day. But flowers will do, won't they? "The Miles Between Us" is by Wendy Clarke and illustrated by Martin Baines.
Do you remember your first bicycle? Was it new or second-hand? Mine was blue and about fourth hand by the time I got it, but oh, how I loved it. And that's the theme of Keith Havers's nostalgic story "Becky's Bike", illustrated by Sarah Holliday.
Something else that can be passed down is talent, and our heroine in "Fixing It For Fergal" by Val Bonsall has inherited a full toolkit of handiness from her dad. Just the job when it comes to her hopelessly impractical neighbour. Illustrated by Jim Dewar.
Our next story will have you flashing back to the days of Pan's People and Top of the Pops. It's "The Silver Foxes" by Julia Douglas, illustrated by Sarah Holliday.
Cooking for one is no fun for Amy, but then she comes up with a novel idea to rustle up some culinary company in "Meals For One" by Helen M. Walters.
And coming in at number seven in the running order is Teresa Ashby's "Losing Track Of Time" – which is what we hope you'll do as you enjoy this week's stories! Sarah Holiday has illustrated this fun story of our heroine who's desperate for a peaceful forty winks.
Serials
The intrigue's getting ever thicker in Jan Snook's compelling US drama "Winner Takes All", illustrated by Ruth Blair, while you'll be dying to read the final instalment of Rosie Hendry's wartime serial "A Home From Home" to see if there's a happy ending for Phylly and Gracie, and Jimmy, of course. Illustrated by Mandy Dixon.
Series
In Joyce Begg's "On Wings Of Song", young George has a choice: singing or football? And another George is at the centre of the action in Riverside, putting two and two together and getting trouble. You mustn't miss our weekly soap by Glenda Young.