Fiction Sneak Peek, April 1, 2017 issue
---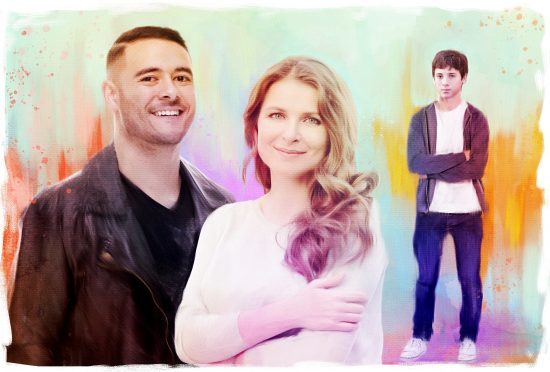 Illustration by Sarah Holliday.
Our opening story is a thought-provoking insight into modern family life and how broken families heal. Robbie's dad has already remarried. How will he feel when his mum does the same? "Happy Families" is by Suzanne Ross Jones and illustrated by Sarah Holliday.
"Tulips In Amsterdam" by Glenda Young will have that tune stuck in your head all day! This one's another insightful modern family story, about a son-in-law and mother-in-law who have loads in common – so why can't they get on?
A story set in 1926 next, by Katie Ashmore. "Counting Blessings" is a poignant tale of three women, and how hope can overcome the sadnesses that shadow their lives. Illustrated by Sailesh Thakrar.
"Looking Back" by Andrea Wotherspoon stars Louise and Timmy who haven't been a couple since university. And now here they are, back where it all began…. Illustrated by Martin Baines.
Do you enjoy Suzanne Ross Jones's cat cafe stories? I love the slow-burn attraction between Maxine and Angus. Here's another one, this time "Wedding Bells At The Cat Café", but who are they ringing for?
Susan Sarapuk's story "The Secret Lake" is next, with an atmospheric illustration to suit. Seb has found the lake, the perfect place to relax alone, not realising it's Amy's special place, too.
Neighbours. Lara's had all sorts living next door, but her latest sings for the joy of it – and that joy is catching! This lovely story, "Thank You For The Music", is by Louisa Heaton – her first for us, as it happens. Welcome to the "Friend", Louisa! Illustration by Jim Dewar.
Serials
Part 1 of a new period story this week, "The Warmsleys Of Pedlars Down" by June Davies, illustrated by Sailesh Thakrar. Although they're cousins, the Warmsleys and the Burfords are sworn enemies…. Sounds good, doesn't it?
Meanwhile we come bang up to date in "Winner Takes All", as Jan Snook's story set amidst a US political campaign continues. That Cindy! She has to get her come-uppance sometime soon, doesn't she? Illustration by Ruth Blair.
Series
Still singing Tulips from Amsterdam…? Lizzie's got a tune stuck in her head, too, in Joyce Begg's "On Wings Of Song" – and it's driving the family nuts!
Meanwhile, in Glenda Young's "Riverside", another snapshot of the modern family as the wedding plans are progressing, though Mike's getting a bit too involved for George's liking.