Fiction Sneak Peek: May 6, 2017 issue
---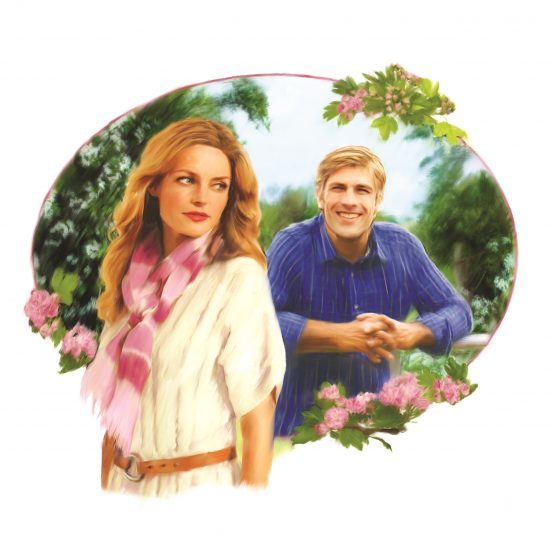 Our first story, "The Lonely Bouquet" by Annie Harris, is based on a real and delightful annual event. The idea is simple: make a bouquet, attach a "Take me!" tag, and leave it for a stranger to find to brighten their day. It's a lovely idea that makes for an equally lovely story.
Anyone an Elvis fan? Then "Double Act" by Glenda Young – about an Elvis impersonator – is for you, with a brilliant illustration by Jim Dewar. This one makes me giggle every time I read it.
Susan Sarapuk has written a smashing story about "The Letter Writer", a lost and much missed art and pleasure. With illustration by Jim Dewar.
Sarah Holliday has created a beautifully atmospheric illustration for "Time And Tide" by Pat Robinson, about a parachute found washed up by a village fishing community – and how its story carries forward.
Oh, a healthy diet – we all try to do it with mixed success. A few extra pounds are a problem for Maria in Susan Blackburn's story "Healthy Eating". Will she win – or lose?
A garden, a wedding, and sweet memories are at the heart of Katie Ashmore's "A Night To Remember", illustrated by Ruth Blair.
In "Viewing Recommended" by Stefania Hartley, a couple come to Sheila to sell their home – but is it really their only option? Illustrated by Mandy Dixon.
Serials
This week sees the final part of Katie Ashmore's first serial for us, "The Secret Of Elm House", which she entered and was short-listed with in our competition. It's time for the secret to be revealed…. Illustrated by Martin Baines.
And we're sprinting through "The Warmsleys Of Pedlars Down" by June Davies – also her first for us. You can't beat a good-going feud for dramatic interest! Illustrated by Sailesh Thakrar.
Series
In Joyce Begg's fun series "On Wings Of Song", the choir's singing has an effect they couldn't have foreseen!
And we finish with Glenda Young's "Riverside", our unmissable soap. This week: the community unite to block the diggers.
Now, who's off to flower arranging classes so they can take part in this year's Lonely Bouquet event?