Fiction Sneak Peek: May 13, 2017 issue
---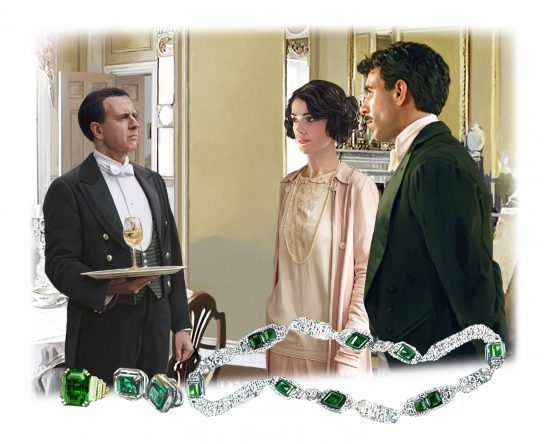 This intriguing scene illustrates "The Silver Shadow", a crime story by Katie Ashmore set in the 1930s. And who's "The Silver Shadow"? It's what everyone's asking!
The next story's fun. "What Are The Odds" is by Keith Havers, set in 1967, about a family, the Grand National and Eurovision. It's a bit of a memory test for you: can you recall who won what that year? Illustrated by Ruth Blair.
"Living A Little" by Lucy King has the write-up "Life as a single mum is hard, but I don't regret my choices…." That sets you wondering, doesn't it, about her situation. But read on and you'll see her life is about to be turned on its head. Illustrated by Helen Welsh.
"Fallen Oak" by Lydia Jones is an insightful story about a tree that has become a metaphor for Sheila's husband Donald.
I like Pauline Bradbury's story "Before And After". Sophie realises she's become "the twins' mum", "Mrs Coleman's daughter", "Pippa's sister…. Whatever happened to just being Sophie? Illustrated by Ruth Blair.
Annie Harris writes "Garden Pests", which might as well be called "Slugs And Snails" because in a way that's what it's about. Don't worry, it's not "eeeugh" – it's a cute romance, illustrated by Ruth Blair.
Our last short story's illustration, by Sarah Holliday, is a pair of hands writing with a fountain pen, a rare sight these days, and that's the point of Cilla Moss's story "Putting Pen To Paper." And it also happens to be the theme of the Fiction Team's Alan's blogpost this week.
Series
It's singing competition time at the local primary school in Joyce Begg's "On Wings Of Song" – and that means they'll need a judge, won't they?
Ryemouth makes the TV news in Glenda Young's "Riverside", our unmissable soap. But as the allotments are saved, another problem rears its head: who's the stranger asking questions about Dave?
Serials
It's always exciting when a new serial arrives. This week, it's Jennifer Bohnet's "A Year In France", a lovely summery theme with Julia adapting to her new life, while friend Maddie, back in London, realises nothing's going to be the same there, either.
And we're at the penultimate episode of our classic period family drama by June Davies, "The Warmsleys Of Pedlars Down". Remember last week, Jonas had just been kidnapped! Illustration: Sailesh Thakrar.