Exploring Dundee: The Tay Road Bridge
---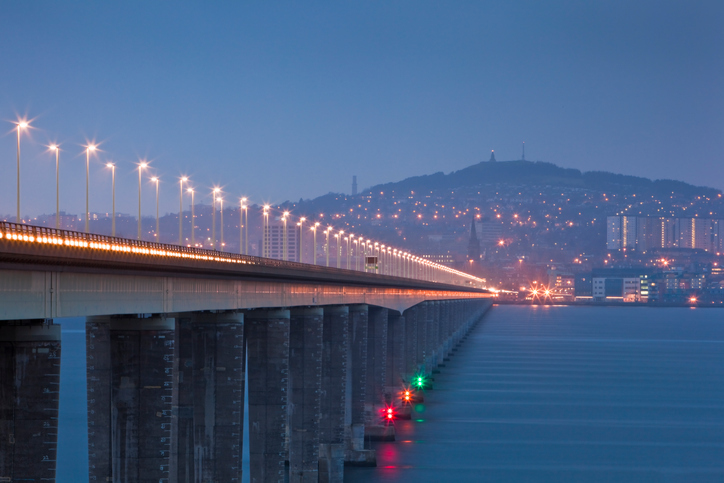 Now that I've settled in to Dundee a bit more, I decided to start nosying around.
It's a funny little city, is Dundee. It's a city wrapped up in nature. Which I think is pretty unusual.
I mean, Edinburgh is full of trees and parks and extinct volcanoes, but it feels more like nature is forcing its way through the old burgh and making a monument of itself. Whereas Dundee city is a bit like a giant picnic blanket, where the ends fray and become entangled in the grass, or dip in the river and, thread by thread, soak it up. It's an agreeable relationship.
It's a city with softer edges than any other I've ever been in.
Before heading home one weekend, I took a stroll down by the River Tay. It was such a sunny day and my old pal 'seagull' was there, just strolling along the wall, taking in the views – like every other passerby.
I could hear bagpipes in the far distance. For a moment, I thought it was just my mind being overly patriotic, as I stared out over the water towards The Kingdom of Fife. But there was actually a woman proudly piping at the waterfront, which only added to a view I'm unlikely to forget.
Later that week, I ventured over the Tay Road Bridge with a friend; it was cool looking back at where I stood days before and pointing out my little flat from across the water. Surreal.
Although, I have to say I'm glad I went to the toilet before we left because that bridge is deceptively long! Your end point looks about the size of a pinhead from where you start.
Next on my list is to make the climb up Dundee Law and then take a gander to Mills Observatory… as I'm a bit of a space fiend.
But really my point is, it's amazing how you can walk 20 minutes in any direction from Dundee city center, and find yourself in an entirely different setting. This I think is just magical.
H
Catch up on my last team blog here…