Fiction Sneak Peek: Oct. 14, 2017 issue
---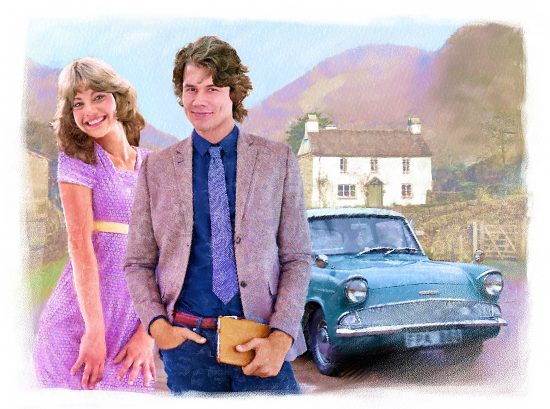 Ooh, remember the classic Ford Anglia? It features in this illustration for Annie Harris's "Dear Aunt Marcia", helping to set the 1971 period. My family had one – did yours? The story's fun, about Gary, a trainee reporter whose next assignment is as agony aunt…
You'll perhaps assume that "Back To The Forties" by Alyson Hilbourne is a story set then, but no, it's a story about Amy's parents who love taking part in 40s' re-enactments. She's managed to give them a wide berth – until now. Illustration by Jim Dewar.
How do you feel about superstitions. In "Just my Luck" by Kate Blackadder, Alan pays them no never mind, unlike Jess, who's superstitious enough for them both! Illustration: Michael Thomas.
"Something To Celebrate" by Helen M. Walters is a poignant story about Erin's 21st birthday celebration – and quite what makes it so special.
I love Alison Carter's story "An Unlikely Pair". John just can't understand how his wife Erica and Serena had ever come to be the friends they are. But finally he learns the truth.
Redundancy. It can whip the rug from under your feet, as Michael finds in "A Job You Love" by Rebecca Mansell. But then he encounters three wise women who make him see things differently. Illustration: Sarah Holliday.
Stefania Hartley whisks us off to the Mediterranean in "Fresh from The Sea". Grandpa's trying to make a point to Grandma, but guess who wins?
Series
A badger's the star the latest "Tales From Prospect House" by Malcolm Welshman.
In "Riverside", it's Ruby's birthday party and everyone's there, except for one very special guest. Guess who? You can't miss our weekly soap by Glenda Young.
Serial
A new serial starts this week, "The Dividing Tide" by Lorna Howarth. It's set in 1838, in a fishing community where crisis looms…Illustration by David Young.
In "Legal Eagles", poor Margaret is reeling from the news about the Falklands, while Helen's more concerned about the way her past seems determined to follow her. Illustration: Mandy Dixon.