Fiction Sneak Peek: Oct. 28, 2017 issue
---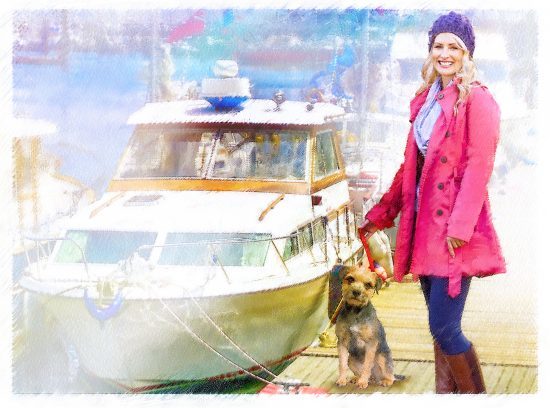 Illustration by Jim Dewar.
Aw, don't you love that dog? The illustration captures the happy mood of "Sailing Up The West Coast" by Susan Reynolds. It's one for fans of Deacon Blue, with Susie and Chump off on a memorable journey….
Moving day and the bottom falls out of the box as Diane carries the last of her possessions into her new life. An omen? Or an opportunity? That's "A Stitch In Time" by Glenda Young.
Anyone who's ever had to attend a course for work will get this next story, "A Wet Blanket" by Lydia Jones, illustrated by Ruth Blair. It's the last thing she needs, but then Abbie meets someone who shows her how to focus on the rainbow, not the rain.
Katie Ashmore writes "The Letter". It drops through Daphne and Martin's letterbox like a depth charge, puzzling, potentially devastating…Illustrated by Sarah Holliday.
Glyn and Chrissie are back to solve another 70s mystery in Val Bonsall's "What A Picture". An art gallery and a treasure of undiscovered paintings – but are they genuine? Illustration: Philip Crabb.
"The Daily Commute". Lots of us do it, but unlike Caroline we don't all have to do it on a bicycle in the rain… But Aunt Lydie has a cunning plan in Toni Anders' fun story, illustrated by Sarah Holliday.
There's mysticism and magic in play in "Tea For Three" by H. Johnson-Mack. Is it only Edie's beauty affecting Jacob, or is there more to it?
Series
And talking of mystic goings on, the local witch's cat's in a bit of bother in "Tales From Prospect House" by Malcolm Welshman.
There's bother of a different sort in "Riverside": a new face in the kitchen at the Old Engine Room. Uh-oh. You've got to read our unmissable weekly soap by Glenda Young.
Serials
In "The Dividing Tide" by Lorna Howarth, Garren has made his way to St Austell to find Jenna – but where is she? Illustrated by David Young.
Ooh, and it's the final instalment of "Legal Eagles" by Rebecca Holmes. A barbecue with family and friends: will it be the happy occasion everyone hopes? Illustrated by Mandy Dixon.