Story Starter: Bike & Go
---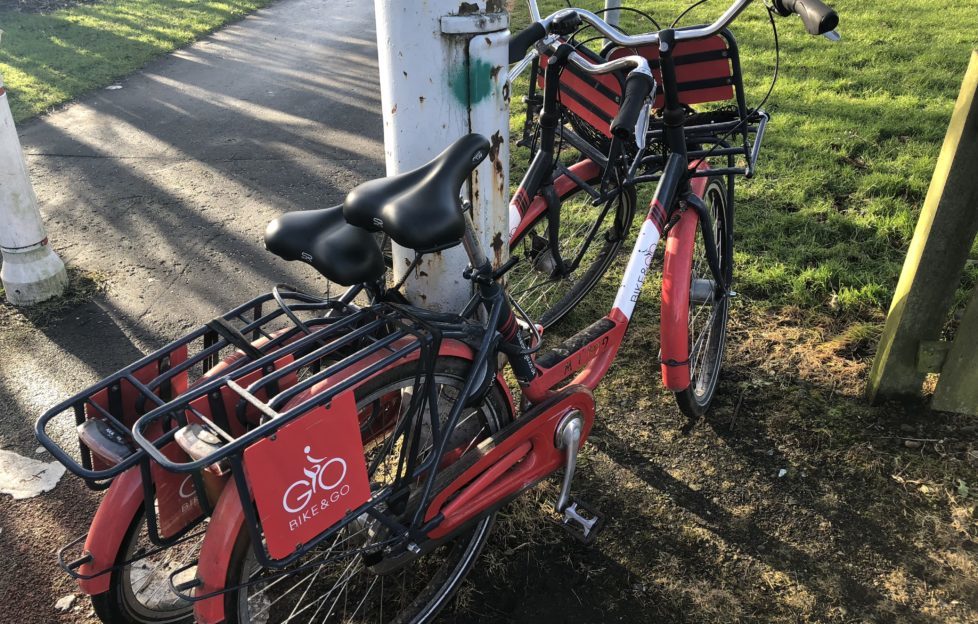 Photo: Shirley Blair
Two red bikes just ready to hit the road. Or have they already done more miles than their riders were planning to? Ooh, maybe they're lost!
One person's good idea, the other just coming along to be polite, obliging, to avoid an argument? Or a pair united in their determination to get fit?
Is this about getting fit or sightseeing? About exploring? About meeting a personal challenge? About quitting on that personal challenge?
The bikes are the same size so it's unlikely to be an adult and a child who were riding them, but they could still be different generations, couldn't they?
Is it about entrepreneurship: the enterprising young person – or perhaps the early retiree – who sets up the scheme?
Long shadows – late in the day….Or early.
Somewhere in Europe
Is it in the UK? It would be good to set the story elsewhere in Europe, wouldn't it? That might bring something different to it.
There's no luggage on the carriers at the front, but then there wouldn't be if they're mindful of security. Maybe the bikes haven't been claimed yet – this is the pick-up point – though you'd expect there to be a whole rack of them.
This pic reminded me of a little for sale ad I saw in our local paper, oh, years ago now. It's an example I use at the story writing workshops in the section on finding inspiration.  The ad read: For sale: Two bikes. Almost new. Pensioners' mistake. Isn't that cute? A whole story right there! If I remember correctly, I sent it to one of our writers at the time who delivered beautifully.
But I guess it's one of the sad things about the shift from newspapers for small ads to sites like Gumtree. Browsing on your tablet just isn't the same as scanning columns of type for unexpected treasures.
And an unexpected treasure is what I'm hoping for once you get busy at your keyboards. 2000 or 3000 words, please. Ta.