Fiction Sneak Peek: March 24, 2018 Issue
---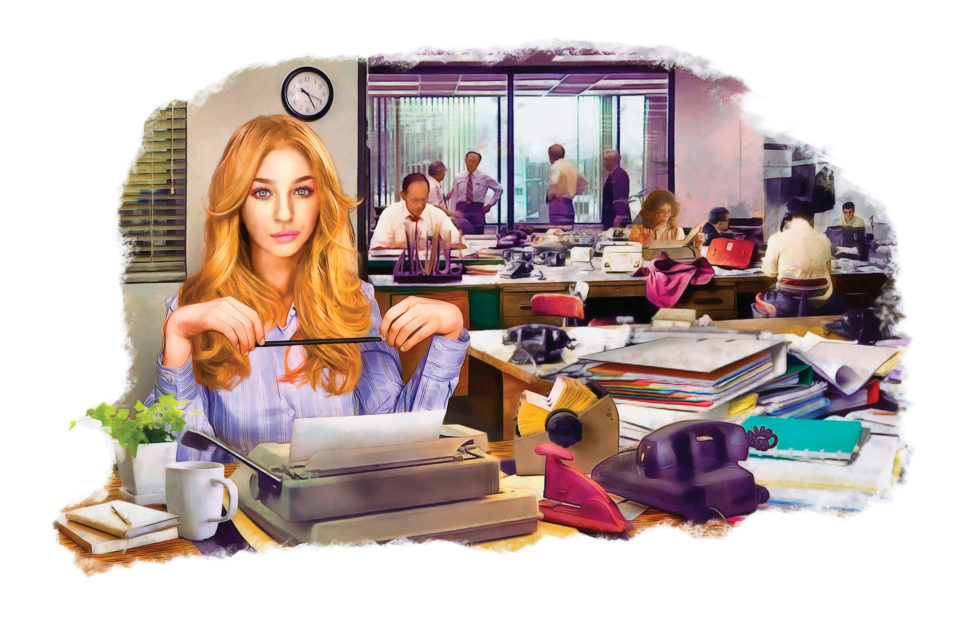 Illustration: Gerard Fay
Welcome to my sneak peek at the fiction in our newest issue, in shops this week.
"Her Big Scoop" by Margaret Skipworth is set, as you can tell from the illustration, in a newspaper office in the 70s – with junior reporter Elaine eager for her big chance. Could this latest story be it?
Charlotte's been hiding away to lick the wounds from her broken romance, but Mum's had enough and finds an unusual way to show her life is for living in "The Cost Of Living" by Susan Sarapuk, illustrated by Michael Thomas.
Alison Carter wrote "Just This One Thing" when the fiction team's Alan sent her Diane Fawcett's illustration from stock and asked if she had any ideas. Yes she did, is the answer, and it's a sweet, touching story.
How does a plant that smells of chocolate lead to a new job for cook Angie? "The Garden Of Eden" by Christine Bryant reveals all, with illustration by Mandy Dixon.
"Watching The Ripples" by Moira Gee is a timeslip tale set on Loch Awe in two periods, now and 2018. Very unusual. But in both periods it's a story about family love.
Do you have a friend who's there for you through anything? For Angie in "Going Astray", it's always been Rory, now her husband. So what's going wrong now? Illustration: Ruth Blair.
In "The Girl In the Yellow Top" by Wendy Clarke, the top has always been Ava's favourite – so why doesn't she want to wear it any more? Illustrated by Jim Dewar.
Series
Poor Felix the cat has a personal problem in Tales From Prospect House by Malcolm Welshman.
Meanwhile in Riverside, our unmissable weekly soap by Glenda Young, the problems come in the shape of George's sister Doreen.
Serials
Part 2 of "Alfred's Emporium" by Louise J Stevens, Rose and Alfred meet for the first time. And is he – is he flirting with her? Illustration: Ruth Blair.
We're midway through "The Secret Of Trefusis Cove" by Pat Thornborough, and in amongst everything else, Val's developing a wee soft spot for Alexander…. Illustration: David Young.
Do you find a sneak peek like this makes you want to read our wonderful magazine? Subscribe today!