How to Bargain Hunt at Your Local Car Boot Sale
---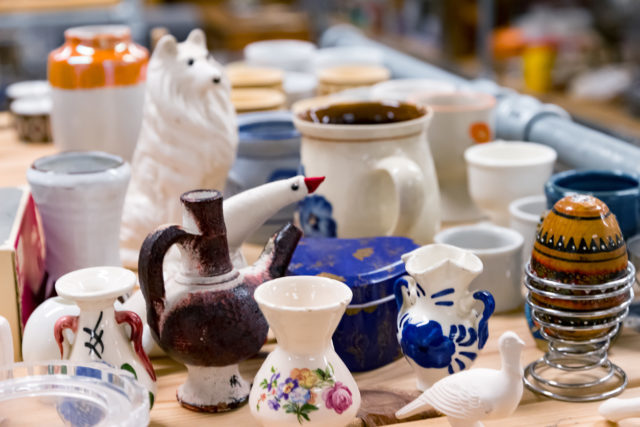 A car boot sale is a British institution. Use our tips to shop like a professional!
If you go looking, you'll find that most towns have an area that becomes a car boot haven over a weekend. Car boot sales are great to make some extra cash from your belongings and have grown in popularity. According to recent figures, Brits spend an estimated £1.5bil at car boot sales. More expensive items can be sold at online auction sites like Ebay, but smaller items could bring you quite the cash haul!
Knowing what to look out for, how to haggle and even what to wear for maximum comfort can make the difference in a successful car boot shopping experience. These tips below offer you the chance to get ahead of other would-be bargain hunters!
Judge the weather
A popular location for car boot sales is fields, which can be very muddy on a rainy day. To combat this, wear appropriate footwear or go when it's sunny.
Bag a bargain by haggling
Although sellers have set prices, no trader wants to take all their items home with them at the end of the day. To haggle successfully, be realistic about what price you want to pay. Don't take the number too low as you don't want to cause offence.
Don't be afraid to ask for a discount
As well as haggling, don't be afraid to ask for a discount when buying multiple products from one stall.
Set a budget
If the car boot sale you attend has many tempting options it can be easy to over spend without even realising it. Set yourself a budget and this will ensure that you don't go overboard with the purchases.
Have an idea of what you're looking for
An important thing to remember when visiting a car boot sale is that it isn't a bargain if you didn't need it in the first place.
Take batteries with you
When buying items that require batteries, it's important to check the product still works before parting with your cash.
Take a tape measure
If you fall in love with a piece of furniture you can measure it there and then to ensure you don't miss out on a great purchase.
Be kind to sellers and fellow buyers
Car boot sales are a great way to make friends, and it's important not to get competitive if somebody else wants an item you have your eye on.
Be sure to keep your purse closed and don't flash large sums of money
Unfortunately, pickpockets go to car boot sales too and won't hesitate at the chance to grab the £20 dangling out of your wallet.
Allow sellers time to set up their table and wares
Even though it's tempting, avoid diving into sellers' boots to rummage through items. They'll appreciate being given time to set up and might even be more likely to give you a bargain.
Go with a friend
Not only will it be more fun, but also very helpful when lifting large and heavy items back to the car.
Make a note of the car number plate
Writing down a seller's car details is vital if you pay for an item that you intend to collect later. It can be very easy to forget which car you bought the item from in a busy car boot sale.
Find the majority of bargains towards the end of the boot sale
Towards the end sellers will be getting desperate to get rid of items they don't want clogging up their attics. The perfect time to bag a bargain.
Don't be shy
Don't be afraid to ask questions about any item you may want. The seller should be knowledgeable about the piece's backstory.
Look carefully
Some of the more valuable and fascinating items might be hidden away at the back of the boot or under a table.
These tips were provided by those clever guys at discount shopping website PromotionalCodes.org.uk