Story Starter: Ruler
---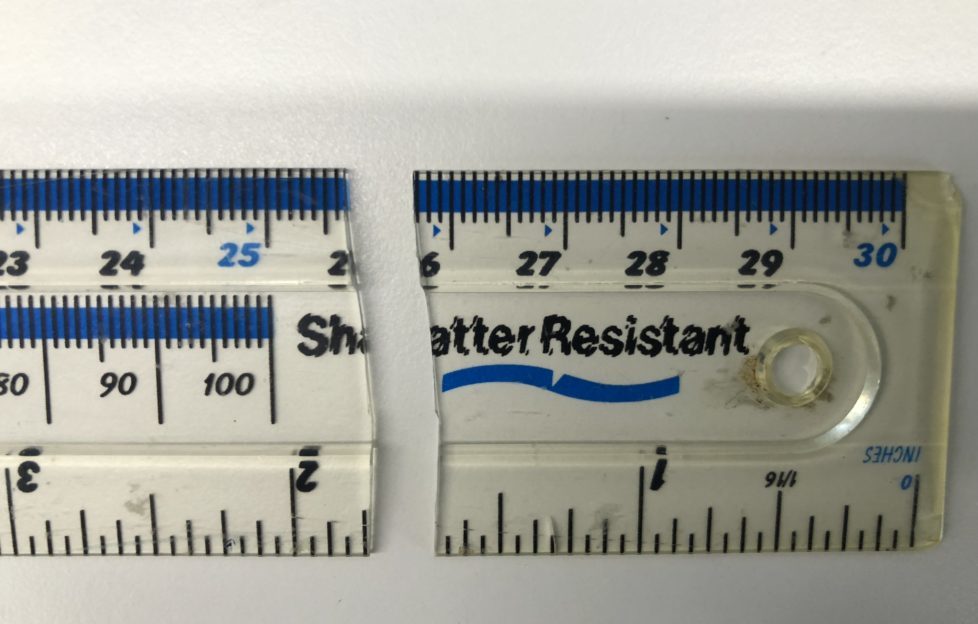 Photo: Shirley Blair
This week's story starter has Shirley breaking the 'rules'!
Can you see what this ruler says? Shatter Resistant. And it's broken right in the middle of the word Shatter…. Ha!
It's my office ruler and you can tell I've had it a long time. I usually take it with me to the printer, when I've printed something that will only use half the page. I rip off that part using the ruler's edge, and save the bottom half for scribbling quick notes.
So when I'm walking round to the printer I've a fidgety habit of flapping the ruler back and forth as I walk. And one day recently the flap was just too much for it and it did this. Nothing lasts….
The last straw
What's quite funny is that the replacement ruler I've acquired from our stationery stories is marked SR2. Shatter Resistant 2? The upgrade? We'll see….!
But anyway, I've decided to make it a story starter because it's quite a metaphor, isn't it? The last straw. The unbreakable bond that proves not to be. The stoic who can cope with anything – until they can't….
That's one way of looking at it. It might also be about its function as a ruler – for marking rules. And that leads us to the whole debate about rules: made to be broken, or adhered to and obeyed?
Rules dictate and guide everything we do, even who we might fall in love with.
Jeesh, this may actually be the most profound story starter image I've ever put up here.
Maybe it's much simpler. School days. Pencil cases and the excitement of a new term. A dread of maths. A tantrum.
Maybe it's something to do with inches being turned on their heads…
There are lots of different way this one could go, and I'm really eager to see the vast variety of ideas you come up with.
Please send your finished stories to us, we'd love to read them!