Lamb Cutlets with Green Bean and Asparagus Salad
---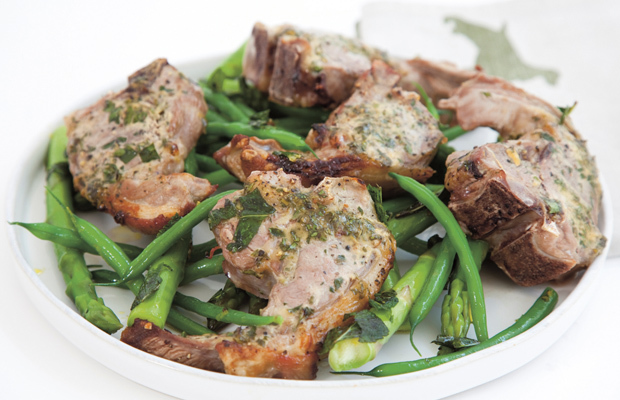 Red Tractor
Salt and freshly ground black pepper, to taste
8 small loin Red Tractor lamb chops
1 tbs Red Tractor rapeseed oil
1 tbs honey
1 tbs dijon mustard
1/2 tbs chopped Red Tractor flat-leaf parsley
1/4 tbs chopped thyme
1/4 tbs chopped rosemary
Red Tractor
For the salad
150g Red Tractor green beans
Bunch of Red Tractor asparagus
Handful mint leaves, chopped
Zest of 1 lemon
Red Tractor
For the dressing
2 tbs cider vinegar
6 tbs Red Tractor rapeseed oil
Pinch of sugar
Pinch of salt
Red Tractor
Method:
Pre-heat the oven to 200 deg. C., 400 deg. F.,Gas Mark 6.
Season the chops, then, in a small bowl, mix together the oil, honey, mustard and chopped herbs.Spread the mixture on to the chops and roast for 8 to 10 minutes, depending on how well done you like your lamb.
Meanwhile, bring a large pan of salted water to the boil and add the beans and asparagus. Cook for 2 minutes until they are just cooked, then rinse well in very cold water. Drain well and put in a bowl.
To make the salad dressing, in a small bowl whisk together the vinegar, oil, sugar and salt. Taste and adjust the seasoning accordingly, then pour over the beans and asparagus and toss well. Arrange on a platter and top with mint leaves and lemon zest.
Serve the lamb cutlets with the salad.