Thank Goodness For Tea Rooms
---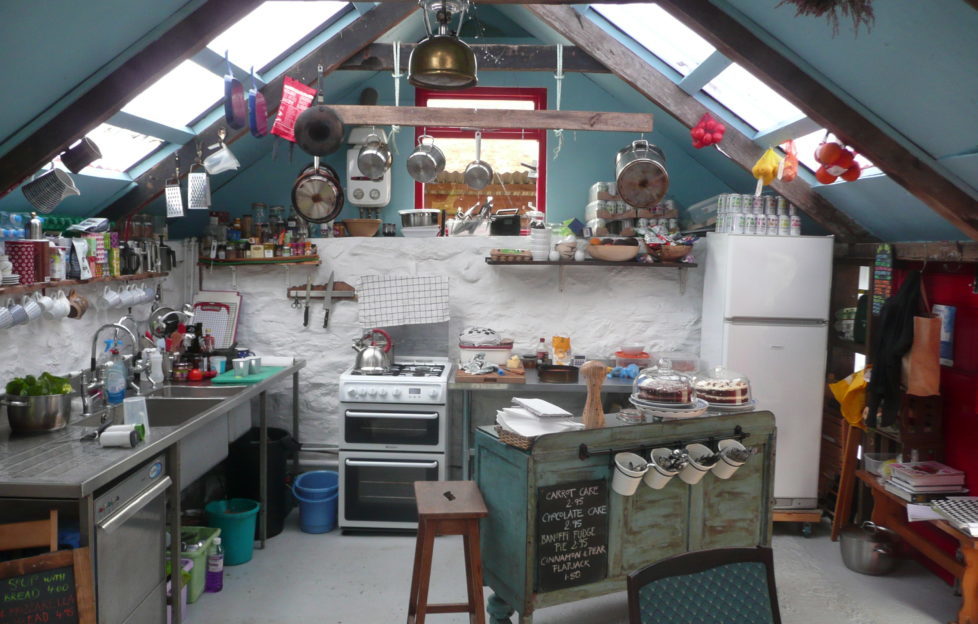 I love wild places, I really do, but I love them, even more, when they have a tea room!
On my travels in the last few years, I've been genuinely surprised (and delighted) at the places you can find a cup of tea and a slab of cake, or even a full meal.
Gone are the days of needing to pack your Thermos and find a dry spot to park yourself – you'll often emerge from a bush after a ten-mile walk and find someone ready to serve a cup of earl grey and four kinds of sponge! That's my kind of progress.
Over the sea to Mallaig
Last weekend, a friend and I had gone up to Mallaig, over on the west coast. The plan was to explore Knoydart by bicycle, a remote peninsula that's best accessed by boat from Mallaig. I was a bit worried about breakfast and lunch – we'd had to catch the ferry over before the cafes had opened – but I needn't have been concerned. Although we had to wait until 10 for it to open, there was a wee cafe right on the shoreline at the peninsula's small village, Inverie.
Well, it did a champion bacon roll and a cuppa, and was just what we needed to set us up for the day. The other folk in there had clearly come in to the village the harder way, as we couldn't help notice they all ordered two rolls each.
As far as I was concerned, my day was made. We'd be back this way by lunchtime, so we could stop in again. Food was sorted, so we could head out and enjoy ourselves.
Off to the great unknown
Off we went to the far side of the peninsula, on a singletrack road with hardly one passing place. There are only half a dozen houses at the end of these few miles of road, and we passed only one car delivering a visitor back to the ferry.
This was the open space we had come for, and when we rolled up in Airor on the far side of the Sound of Sleat, it looked like there was nobody home.
But we found a wee dog, and when we stopped to say hello, we saw that she was at the entrance to – of all things – a tea room! The Road's End Cafe was open for business, and though it had only been an hour since breakfast, it seemed rude not to step in and try a slice of carrot cake. It was delicious, and my friend Niall's chocolate cake must have been, too, because it had disappeared by the time I turned around to ask him about it.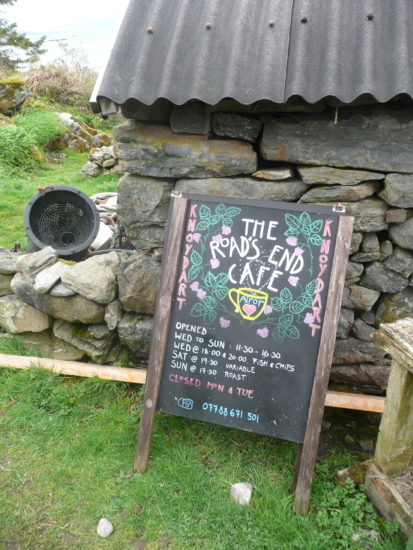 Shame we weren't going to be there to take advantage of fish and chips Wednesday, though. They're famous across the peninsula, though you have to get your order in at least 24 hours ahead of time.
In late autumn last year, a landslide took the road between Airor and Inverie out of action for a bit, but these folks were prepared to deliver your order to their side of the landslide, if villagers from Inverie were prepared to come to the other side and scramble across to pick them up!
That's dedication to good food, and it's a pleasure to find, wherever you are!